Northumbrian completes £11M eel protection project
Northumbrian Water has announced that it has completed work to help protect endangered eel species and fish in the River Wear.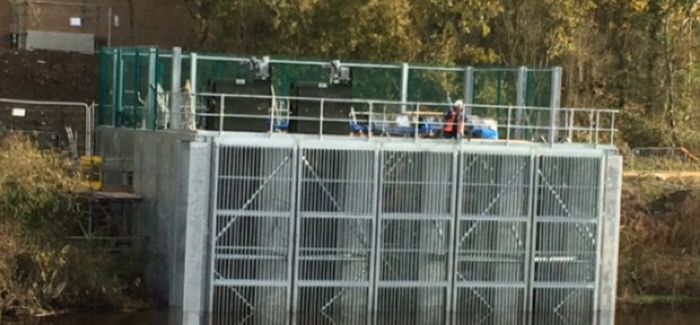 In 2015, Northumbrian Water embarked on an £11 million project to install a series of "screens" at water intakes on the rivers Tees, Tyne, Wear and Coquet to protect eels and fish, preventing them being injured or killed by being drawn into the water pumps.
European Eel stocks have declined massively across Europe and North Africa in recent years, with the number of elvers (young eels) migrating into European rivers falling to less than 5 per cent of 1980s levels. This has put the eel on the critically endangered list and made it the subject of legislation to reverse the drop in numbers of adult eels returning to the sea.
The installation of specially designed screens at six river intakes across the region will stop eels and fish being sucked into the pumping stations where water is taken from the river to supply reservoirs and water treatment works.
Northumbrian Water′s work has involved close liaison with the Environment Agency, local councils, landowners and residents.
Phillip Thornberry, project sponsor for Northumbrian Water, said: "Eels may not be the most attractive of creatures, but they represent part of the UK ecology which must be preserved at all costs. I′m delighted to be able to manage this project to provide a legacy of eels and fish protection and achieve compliance with the regulations.
"When the new regulations came into force, we agreed a programme of work with the Environment Agency and I′m pleased to report that the first site on the River Wear [at Chester-le-Street, near Durham County Cricket Club] is now complete and compliant with the Eels Regulations. Work is ongoing at the remaining sites and will be finished by March 2020."
Environment Agency fisheries technical officer Robbie Stevenson added: "It′s fantastic to see the first of the eel protection screens completed in this great project by Northumbrian Water, which is a result of the hard work of everyone involved to develop the best possible solution for each of the sites.
"The European Eel is critically endangered throughout their range from Africa to northern Europe. These fascinating creatures have a complex life cycle, beginning life in the Sargasso Sea and undergoing several changes during their life maturing in European waters, before returning to the Sargasso to spawn.
"This work is a smart solution to a serious problem and will hopefully go a long way to minimise the potential impact that each of these sites have not only on eels but on other fish and the wider biodiversity of the rivers in which they live."
Northumbrian Water partner Mott MacDonald Bentley (MMB) was awarded a contract to design and construct the new screens required at each site.
The total project will cost in the region of £11 million.