North Midland Construction and Nomenca rebrand as nmcn
North Midland Construction Plc (NM Group) and its subsidiary Nomenca Limited have rebranded as nmcn, in a transition which the company says gives it a single identity and embodies a 'one team' approach.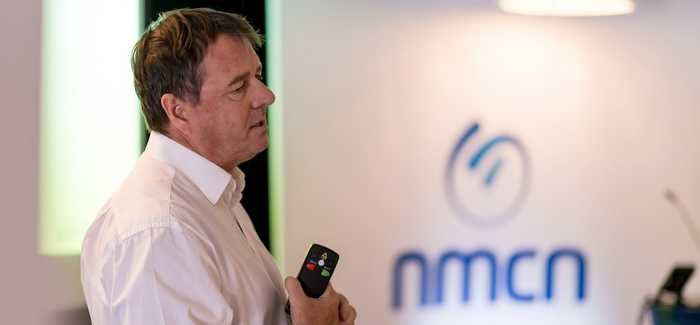 John Homer with the new nmcn logo
The company, which earned £250M worth of water sector revenue in the last financial year out of a total turnover of £340M, is currently growing quickly and secured a series of major built environment and water industry contracts during 2018. It is now working with 10 of the biggest water providers, with recent major contract wins including the South West Water Civil Engineering K7 Capital Works and MEICA frameworks, and the £55.5M Bellozanne Treatment Works in Jersey.
The 72-year old company employs 1800 people across the country and has 12 UK offices, offsite build and fabrication facilities, and the new single brand reinforces the national reach of the company which goes far beyond its original home of the Midlands.
John Homer, Chief Executive of nmcn, who has been leading the national engineering and construction company since 2016, said: "We're bringing the technical expertise and innovation that flows throughout our business within one united identity. Our success is, and always has been, built from the strength and experience of our people. Together, we're creating buildings and infrastructure used by millions of people and for future generations to come."
The new branding is designed to "future-proof the legacy" of the company and represents people being at the heart of the business, collaboration and sustainability, according to Homer. With a future project pipeline of £700M, and 76% growth in revenue over the last five years, the company is in a robust industry position and the relaunch should signal the beginning of a new era of further growth, he added.
"Revenues have continued to rise, our cash position remains solid and a series of major contract wins are feeding our growing pipeline of work for the next five years and beyond. We are therefore looking to extend our team with an intensive recruitment campaign running over the coming months."
The company is taking on 100-200 people a year at all levels, from tradespeople and mechanical engineers to project managers, designers and senior managers. It has opened three new sites in the last year, two in the South West and one in Yorkshire, and Homer says that getting its hands on the right talent is crucial for the company's plans.
"Recruitment of the right type of people is probably the biggest issue on my agenda, in terms of making sure we are delivering for our customers and meeting our growth targets," he said. "If we can't get them, then we can't deliver - and what we won't do is take on work which we subsequently can't deliver and let the customer down."
With the PR19 business plans of water companies recently published, Homer told WET News that he sees the main trends being an emphasis on customer experience and on doing things more efficiently.
"Water companies are looking for efficiency – but it's not efficiency in terms of driving us down to the lowest price, and having a race for the bottom. Efficiency has got to be achieved by collaboration, and the water companies that we are working with are very much aligned to the fact that we have to create the right environment to collaborate. Everybody at the end of the day must make a profit, because that's what business is about, but there are ways of both making a profit and creating efficiencies for the water company through the whole regulated cycle. PR19 has probably just amplified the need for that."
The rebranded nmcn is already working with most of the major water and sewerage companies, as well as several water-only companies, and is actively working on its offering to the remainder, says Homer. He says that it is encouraging that the water companies' procurement of major contracts as to follow PR19 looks like it will be staggered rather than all coming at the same time, which should help avoid some of the issues of cyclicality that associated with the AMP cycle.
"From a business point of view we need to cut our fixed costs and keep our people busy. Negative growth can be curtailed through an AMP cycle, but in terms of the fixed costs we need to ensure we've got the throughput to balance that out," says Homer.
Offsite manufacture is a key offering of the company, with its factories and workshops in Warrington, Mansfield and Plymouth geared up to offer modular products such as UV and chemical dosing units which can be supplied to water companies or their contractors for more efficient project delivery. Its emphasis on innovation helped it win the Contractor of the Year award at the Water Industry Awards, organised by WWT and WET News, in May this year. 
The company has in recent years worked in joint ventures with Barhale, with Doosan Enpure and with Laing O'Rourke and BAM Nuttall; it has also been part of delivery alliances, most notably for Severn Trent. Homer says that nmcn is positive on taking part in alliancing arrangements going forward, and is happy to offer up its expertise and innovation to such collaboration, but is more cautious on the prospect of forming any new joint ventures.
"We are quite selective with regard to who we do business with. When we go into a joint venture we look at the cultural aspects of whether we can we work together, and it needs to be a good fit in terms of technical expertise and resources. Clearly we also need to consider the risk profile in doing that, and making sure that whoever we go into business with is going to hold their part of the bargain and will be around to see it through. With the demise of Carillion still fresh in the mind, there is a risk there and that's something we are obviously want to avoid."
Homer says that the workforce is "enthused" by the rebrand to nmcn, which has been highlighted internally through roadshows and conference events.
"We took quite a lot of time to consult with our people and make sure we took their thoughts and feelings into account," he concludes. "It is definitely the right thing to do. The identity that we have created is one identity, one brand, one name, so our people they can express who they are. Everybody's looking forward to our next year under one banner."