Nigeria: Abjua triples treatment capacity
UK engineering company Biwater has successfully commissioned two 240Ml/d water treatment plants (WTP) serving Nigeria's capital city, Abuja, and surrounding districts. The Lower Usuma Dam Water Treatment Plant project includes plants named Phase 3 and Phase 4.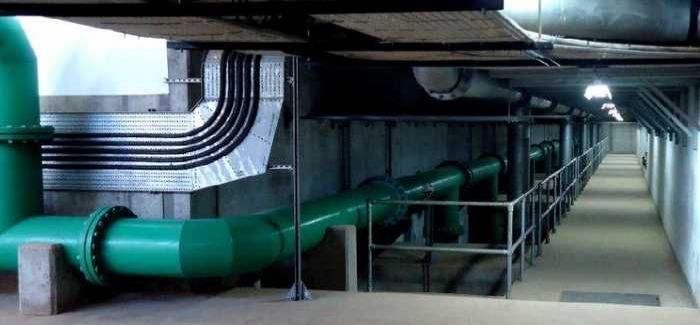 The filter pipe gallery on one of the new plants in Abuja
The plants, which Biwater said exceed international water quality standards, will triple the capacity of the existing Phase 1 and 2 WTPs, which together deliver 240Ml/d of potable water.
Giles Jackson, Biwater International's regional director for Africa, said: "With our commissioning of Phase 3 and 4, Abuja will now benefit from a total of 720Ml/d of treated potable water. The Federal Capital Territory Water Board (FCTWB), was delighted to see water flowing from the new works to the people of Abuja and the surrounding districts. The treatment plants are already demonstrating an immediate effect, alleviating water scarcity."
The federal capital territory minister, Senator Bala Muhammed, said earlier this year that the territory's population is expected to rise from five million to ten million by 2018. The project supports the FCTWB efforts to improve water infrastructure and ensure that water treatment facilities provide for the territory's growing population.
Biwater said it conducted onsite training to ensure handover of the plants' operations was seamless. Ahead of the FCTWB taking over operations for the two plants, SCADA technology systems are being used to operate the plant and allow for remote monitoring and adjustments.