NI Water's new state-of-the-art Magligan WwTW gets a visit from Kennedy
Regional development minister Danny Kennedy has visited the recently completed Magilligan Wastewater Treatment Works (WwTW), which is part of NI Water's £8M Benone Area Sewerage Scheme. The wastewater infrastructure will improve the bathing water quality in this strategically important tourist area.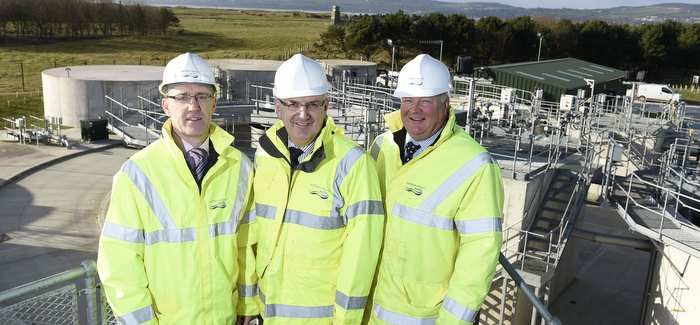 Danny Kennedy (centre) with (left) Alec McQuillan, NI Water's head of Wastewater and (right) Dermott McCurdy, NI Water, head of Wastewater Capital Delivery
Construction of the state-of-the-art wastewater treatment works has been at the heart of the major investment. Designed for population projections to 2030, the new facility will now treat all sewerage flows from Oughtymoyle, Drumavalley, Aughil, Benone, the Ministry of Defence (MoD) facility and HM Prison Magilligan, before discharging the final effluent to the North Channel via a new outfall pipe at Magilligan Point.
Speaking at the facility, Kennedy said: "This vital project is good news on both an environmental and economic level. The local watercourses, including Lough Foyle and the bathing waters at Benone Strand, will significantly benefit from this major investment in the area. The new treatment facility will serve this popular tourist area well for many years to come and the infrastructure improvements will also ensure compliance with foreseeable European standards.
Dermott McCurdy, head of Wastewater Capital Delivery at NI Water, added: "In an overhaul of the existing arrangements, all current wastewater treatment works at Aughil, Drumavalley and those operated by the Ministry of Defence (MoD) and HM Prison Magilligan, were converted to modern new pumping stations. These pumping stations will now transfer all wastewater and stormwater to the new Magilligan WwTW for effective treatment before being discharged to sea through the new outfall pipe at Magilligan Point."
At the new pumping stations many of the highly-visual above-ground buildings were demolished as part of this scheme, and tanks were brought as close to ground level as possible. At Magilligan WwTW, the control building has been designed with a curved roof to echo a traditional agricultural building and was finished in a subdued 'field-pattern' colour to integrate with its surroundings. All spoil excavated from the Magilligan site has been reused in landscaping the area around the new works to help ensure the plant blends in with its surroundings.
The Benone Area Sewerage Scheme is just one of many projects making up an investment of around £2M a week by NI Water to deliver a 21st century infrastructure for the whole of Northern Ireland. BSG Civil Engineering was the contractor for this major scheme, with AECOM providing design and technical support.