NI Water's Castor Bay to Belfast Water Pipeline is underway
Pipelaying on NI Water's £14M Castor Bay to Belfast Water Pipeline is well underway. The start of the project was marked by regional development minister Danny Kennedy visiting the Maze Long Kesh Development Site near Lisburn to take delivery of all the pipes.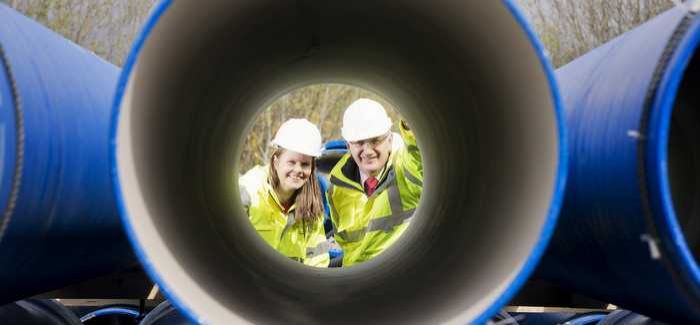 Sara Venning and Danny Kennedy at the delivery of the pipes
The 29km pipeline, which is scheduled for completion next summer,  will link into an existing trunk main to transport the water supply on to Belfast. It will also involve improving the water infrastructure around the pipeline route, including upgrading the existing Castor Bay Water Pumping Station (Craigavon); a new water pumping station at Sprucefield and a new water pumping station at St Andrews Service Reservoir (Temple).
The work is being carried out by Lagan Construction.
Kennedy said the project will provide "a welcome boost to the construction sector". He added: "The scheme will also improve drinking water quality, reduce leakage and ensure that NI Water complies with the relevant EU directives."
NI Water chief executive Sara Venning said: "We at NI Water are pleased to take delivery of all the pipes for this essential scheme. With pipelaying now well underway, the project will ensure the security of the water supply, and, along with our project delivery team of Lagan Construction and Capita, we will work with the public to ensure that this work is carried out with minimum disruption."