NI Water launches 'weed wiping' catchment pilot
Northern Ireland Water has launched a pilot scheme in the Armagh area which will see farmers receive a free 'weed wiping' service in order to dissuade them from using chemical weedkillers.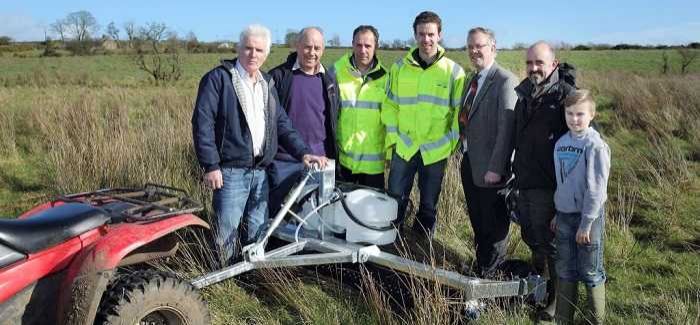 The initiative, in conjunction with the Water Catchment Partnership, will run between May and September this year and for the same period in 2018. It is targeted at land managers tackling rush weeds in the catchment area of Seagahan Reservoir near Markethill. 
Roy Taylor, Catchment Manager at NI Water, explained: "At present, extra treatment is required at Seagahan Water Treatment Works as a result of the water quality in the Seagahan Dam.  Monitoring of water in the dam has shown high levels of grassland pesticides such as MCPA, which could be from agricultural activity. 
"Final drinking water is always at a high standard and meets all the required water quality standards, but there is a major increase in cost for the extra treatment required to deal with these chemicals. 
"This innovative pilot scheme, the first of its kind in Northern Ireland, will provide an alternative way of tackling rush weeds without using harmful pesticides."
A Farm Liaison Officer will visit farms and use a 'weed wiping' method to kill the rushes. The free of charge visits will also give advice on the handling, applying and disposing of grassland sprays, guidance on mechanical control of rushes and improving land condition to addressing the underlying causes of infestations.
Managers of eligible fields are being advised to apply for a visit before 30th April and an information evening is being held this week to promote the scheme.
UFU Deputy President Ivor Ferguson added: "The Ulster Farmers Union fully support NI Water on the delivery of the 'Rush solution without pollution' initiative. This Free Trial which is being offered in the Seagahan Catchment Area in County Armagh aims to provide farmers and landowners with the necessary tools to tackle rush weeds.  The UFU would encourage local farmers to show their support by signing up to the project and avail of this free weed wiping service. It is hoped that the success of this initiative will continue to build on the successful work of NI Water and the Water Catchment Partnership to date and that farmers can continue to adopt best practice protocols when it comes to weed control."
More information is available at www.niwater.com/watercatchment; queries can be emailed to weedwiping@niwater.com.