NI Water issues FOG appeal after fatberg reaches manhole cover
Northern Ireland Water has urged the public not to allow fats, oils and grease (FOG) to enter the sewers after discovering a fatberg so thick it had risen to the top of the manhole cover.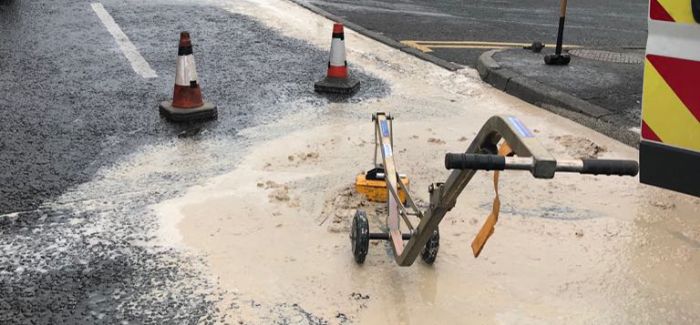 The company attended the blockage on Shankill Road, Belfast, on Wednesday 22 August.
Stephanie McCullagh, head of wastewater, said: "While most homes and businesses use grease traps and bin their waste correctly, those that don't contributed to a massive fatberg in the sewers around the area.
"We would appeal to all our customers, especially food outlets, to dispose of their FOG appropriately. For householders, let it cool and then put it into the bin. Alternatively, pour it into a disposable container and take it to your local oil bank.
"Businesses also risk blocking their own drainage systems, which results in extra costs being incurred in clean-up efforts. These fat blockages can not only result in out of sewer flooding but odour problems and the risk of rat infestations both near and beyond your premises. Ways to dispose of FOG include fitting a grease trap, using an enzyme dosing system or recycling it. 
"As this incident shows, blockages and out-of-sewer flooding are extremely unpleasant and affect the whole community.
"We have all seen the disgusting effects of an overflowing manhole in the street and no one wants to see or smell it – not even us! – but the reality is it happens regularly at a cost of millions to NI Water each year.
"We all have the power to stop it. In the last ten years, NI Water has spent over £1.5 billion investing in water and wastewater infrastructure but no amount of investment will completely stop blocked pipes if people continue to flush wipes (including flushable), sanitary items and cotton buds down the toilet.
"According to recent research carried out by Water UK, 93 per cent of the material causing sewer blockages was made up of wipes – including a high proportion of baby wipes – which are not designed to be flushed.
"Less than 1 per cent of the domestic waste in the blockages was identified as made up of products which are designed to be flushed, such as toilet paper.
"Customer awareness and behaviour change is the only real way to address sewer misuse."