NI Water CEO proposes date for charging
Northern Ireland Water's chief executive Trevor Haslett has stressed the importance of generating water from domestic customers in the province in a speech to delegates attending WWT's Water NI conference in March.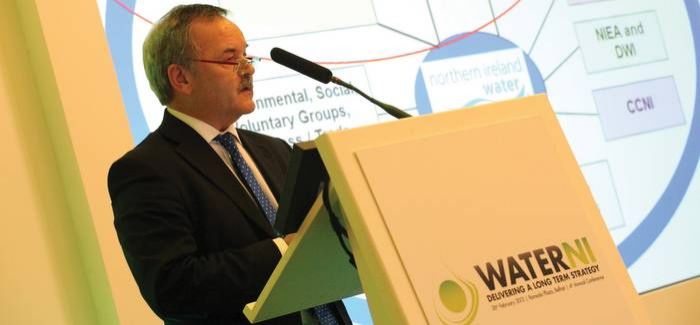 "In April 2007 the Water Service became Northern Ireland Water, a government company, with DRD [Department for Regional Development] as the sole shareholder, and regulated by the Utility Regulator," he said. "Now, this was established with the intention of introducing charging on a phased basis, with full charging by 2010.
"This didn't happen. Because of our reliance on public subsidy, in fact over 70%; we became a NDPB [non-departmental public body] in 2009."
Following a keynote address from Danny Kennedy, Minister for Regional Development at the Northern Ireland Executive, Haslett said, "But what next? I'm going to stick my neck out here - and I'm glad Danny's left - 2018, possibly, for charging.
"Why do I say that? Our subsidy runs out in 2016, with the bill going through at the moment. That seems about the right time for me."
Haslett, who steps down from his role in August, also spoke about the challenges NI Water faces, in reducing bureaucracy.
Meanwhile, Antoinette McKeown, chief executive of the Consumer Council for Northern Ireland said the development of a long term water strategy through current draft strategy consultation provided "a huge opportunity" to get consumers involved. McKeown also said research revealed just over half of consumers would be prepared to pay for water charges "if the money currently paid to water was redirected to other public services, such as health and education".
Jo Aston, director of water regulation at the Utility Regulator, spoke about economic regulation supporting sustainable approaches, saying "a turning point" had been reached. Aston also said that PC15 – a new six-year cycle which will be reviewed after three years - does provide the framework for longer term planning and opportunities for collaboration with other stakeholders.
The one-day conference, which took place ahead of the PC13 price control determination that comes into effect this month, saw around 140 delegates from across the industry gathered to discuss the delivery of a long term water strategy. The event was chaired by Jim Oatridge, independent chair of the Utility Regulator's Audit & Governance Committee, and sponsored by Veolia Water.