NI Water calls for more sewerage infrastructure investment
NI Water has called for more infrastructure investment following the completion of a £5 million project which involved the upgrade of major sewers in parts of Belfast city centre.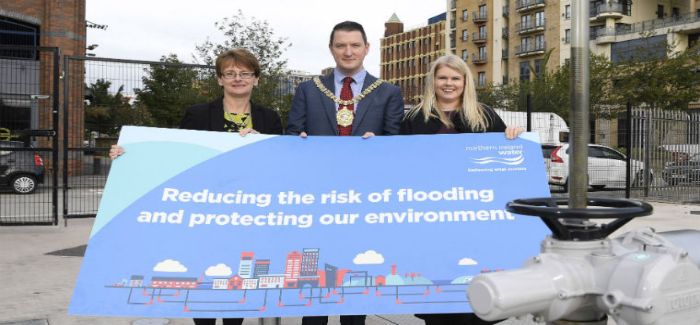 The project took place within the Ormeau Avenue/Lower Ormeau Road, Dublin Road, Bruce Street, Sandy Row and Joy Street areas of Belfast.  
NI Water said it will play a major role in facilitating further development within this part of Belfast city centre.  
It will also reduce the risk of out of sewer flooding, minimise blockages within the existing sewers, while improving water quality in the River Lagan.
Some of the sewers within this area dated back to the late 1800's and were in very poor condition.  
In addition to the upgrade of the existing sewers in the area, the project included the construction of a new underground Wastewater Pumping Station within an existing car park in Hardcastle Street. 
At the height of construction, shoppers and commuters on Great Victoria Street and the Dublin Road were oblivious to the fact a large sewer was being tunnelled underneath them.
"We are delighted to have completed this significant investment within this area of Belfast City Centre," said NI Water chief executive, Sara Venning.
"This has been a challenging project and we are pleased to have delivered the benefits of reduced flood risk and environmental improvement, whilst also providing additional capacity to support economic development within this area of the city.
"Just last week, we called for further investment in our water and sewerage infrastructure," added Venning.
"The growth of Belfast City, the primary economic engine of Northern Ireland, will struggle unless the £1bn investment in strategic drainage, under the Living with Water Programme, is supported.
"The City Deal risks not realising its full potential. Put bluntly, no drains means no cranes. The Ormeau project is an excellent example of what can be done when the necessary funding is in place."
The Lord Mayor of Belfast, John Finucane, added: "Belfast City Council welcome this significant investment by NI Water in Belfast City Centre.  It will help our city to flourish and allow for an increase in development which is essential for the future economic development of our city.
"We support NI Water in its quest for continued investment in our sewerage infrastructure, which will help the population, the economy and the natural environment thrive and develop over the next 25 years."