NI Water awards safety equipment supply deal
NI Water has awarded a new £3.25M contract to Duncrue-based Heyn Engineering to supply and maintain essential safety and maintenance equipment over potentially the next six years.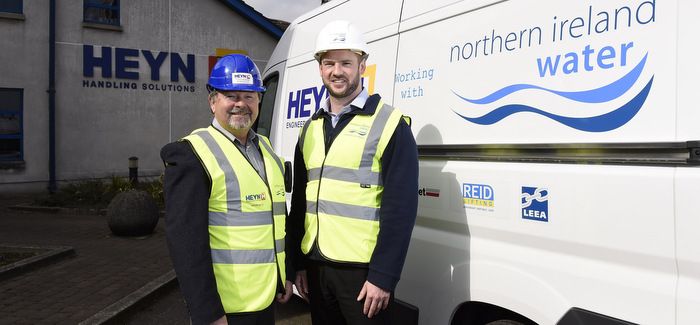 Kevin Denvir (left) and Dean Campbell
As NI Water marks a decade of delivering what matters, investing £1.8bn in water and wastewater services over the past ten years, this contract will deliver essential health and safety equipment, which will help NI Water staff to safely access and maintain its water and wastewater network. The project will also assist in supporting a growing economy, with seven people working full-time on the contract at Heyn.
Dean Campbell, category manager in NI Water's Operational Procurement team, said: "NI Water are delighted to announce this major contract with Heyn, who will maintain, test and certify over 20,000 items of lifting and fall arrest equipment such as cranes and hoists. Heyn will also supply replacement equipment, which is essential for our company to maintain our vast network of pumping stations, treatment plants and reservoirs throughout Northern Ireland and continue to deliver what matters to our customers.
"Health and safety is a key priority for NI Water and this essential service supplied by Heyn will ensure that staff and contractors can safely get access to underground services and tanks to help us continue to deliver high quality water and wastewater services, as well as meeting our statutory requirements."
Kevin Denvir, director of engineering at Heyn, added: "We are extremely pleased to have won a contract of strategic importance with NI Water. As a local Northern Ireland company and with Heyn Engineering's expertise, skills and experience we will be able to fulfil this essential supply, maintenance, testing and certification contract to the highest possible standards.
"The contract has created additional jobs and improved job security amongst our engineering division. Being selected on a contract of strategic importance by such a high profile organisation such as NI Water, has also helped to raise the profile of Heyn Engineering in the industry."