NI Water accepts hosepipe ban interpretation was 'too broad'
Northern Ireland Water has admitted that it exceeded its powers when attempting to prohibit a wide range of activities as part of its hosepipe ban this summer.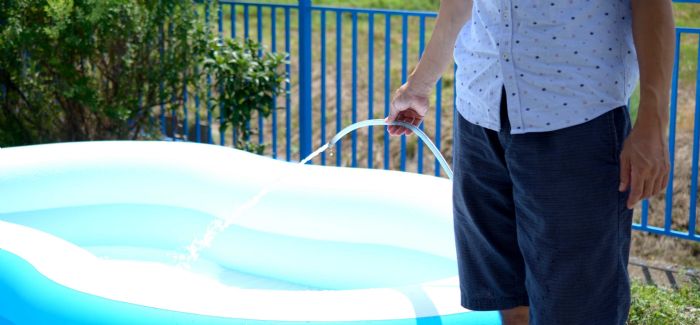 The utility implemented the ban between 29 June and 19 July, informing customers that they were prohibited from carrying out a range of activities with a hosepipe, including watering gardens, filling swimming or paddling pools and ponds, cleaning private leisure boats and motor vehicles, cleaning walls or windows of domestic premises, and cleaning paths or patios of domestic or other non-commercial premises.
However, NI Water has now accepted that the law in Northern Ireland currently only allows for the prohibition of hosepipe use in relation to watering private gardens or washing private cars.
A company statement read: "During the water supply issue that took place throughout June and July 2018 NI Water imposed a hosepipe ban restricting the use of water, for certain specified purposes by domestic customers.
"NI Water imposed the ban under Article 116 of the Water & Sewerage Services (Northern Ireland) Order 2006. In imposing the ban, NI Water's primary aim was to reduce unnecessary consumption so as to ensure that customers remained in supply. NI Water is grateful for the co-operation of customers during this time.
"Following the lifting of the ban on July 19th NI Water conducted a review of their interpretation of their powers under Article 116. As a result of this review, which included getting further legal opinion, NI Water now accepts that its interpretation of Article 116 was too broad and that it therefore had sought to ban certain activities that were not envisaged under the legislation, as currently drafted.
"Accordingly, NI Water wishes to apologise to its customers for any inconvenience caused during this period. NI Water would again emphasise that at no time did it seek to mislead the public, rather its primary aim was to ensure all customers remained in supply and that businesses could function efficiently."
In mainland Britain, the Flood and Water Management Act 2010 considerably extended the range of hosepipe-related activities that could be prohibited during a hosepipe ban, but the new rules were not adopted in Northern Ireland.
NI Water CEO Sara Venning said: "The purpose and intent of the hosepipe ban was simple, to encourage customers to conserve water to ensure that everyone remained in supply.
"We welcome the Attorney General's advice in this situation and have taken it on board. We wish to apologise to our customers for giving them the impression that they would be criminally sanctioned if they broke the hosepipe ban, for example, by filling a paddling pool. That was never our intention and we worked hard in our communications during this period to seek the cooperation of the public.
"NI Water is satisfied that we had a legal right to put a hosepipe ban in place and we appreciate not only the good work of our staff but also the immense support from the public during that time.
"Given the extreme situation faced by NI Water and indeed all of our customers, our legal team examined the legislation, which is acknowledged by all to be outdated. Following that, we decided to ban certain activities in and around the garden. Otherwise, the strain on water resources would have been stretched even further and may have resulted in the ban being in place for a longer period.
"Following the lifting of the ban on July 19th, NI Water conducted a review of our interpretation of these powers. As a result, which included getting further legal opinion, we accept that our interpretation of Article 116 was too broad and had sought to ban certain activities that were not included such as washing paths, patios, walls and filling swimming pools.
"We are now working in conjunction with the relevant authorities to have our legislation changed to ensure it is appropriate for Northern Ireland's needs.
"NI Water stands by the decision to put the ban in place, as the ultimate penalty was that thousands of our customers would have faced supply interruptions. The public reaction to the hosepipe ban was fantastic and it was undoubtedly due to their support that NI Water was able to avert any disruption; after all, this is a situation that affected each and every one of us. We cannot stress enough the devastating impact it would have had on our customers if the ban was not put in place."