New wastewater pumping system boosts efficiency at Heathrow
A more efficient pumping system for wastewater has allowed Heathrow Airport's Water Services division to save money and contribute to energy saving goals.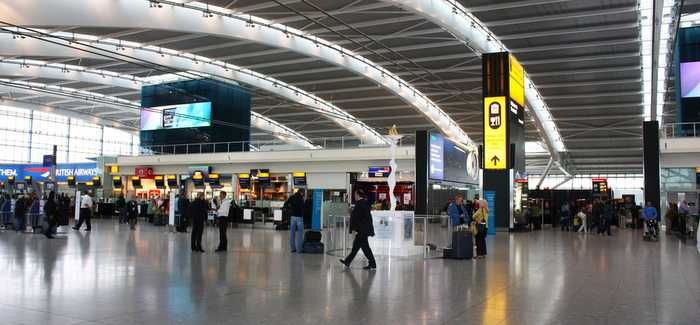 Wastewaster pumping is essential at Heathrow, where 80 litres of foul flow per second are discharged to the sewage treatment works
When the Civil Aviation Authority (CAA) advised Heathrow Airport that it needed to reduce the passenger levy, the Water Services Division looked at how they could incorporate more energy efficient measures into the airport's pumping system to reduce costs.  
"Heathrow Airport is one of the world's busiest airports, with more than 72 million people travelling through its terminals in 2013 alone," says Ian Jolly, Head of the Water Services Division at Heathrow Airport. "Our northern runway is 4km long and the southern runway is 3.5km long, with an aircraft departing or arriving every 40 seconds.
"One of the biggest issues we face regarding the transfer of foul water from the airport is gravity. Airports are built on extremely flat land, for obvious reasons, which can make the pumping of water difficult and highly energy consuming."
Due to sewers at Heathrow operating independently, surface water and foul are unable to mix, meaning the airport receives no flushing water from rain. To combat this, the airport exterior alone has over 100 foul water pumping stations to cater for the 80 litres of water discharged to the sewage treatment works every second. These range from small packaged pumping stations to large multi-pump installations with a combined holding capacity of 2,500 cubic metres.
With Heathrow Airport owning some of the UK's most critical transport infrastructure, the CAA, the UK's independent aviation sector regulator, is responsible for the economic regulation of Heathrow.
"The CAA advised that we would need to reduce our passenger levy from £22 to £19, meaning Heathrow Airport needed to cut costs by more than £600 million over a five year period," continued Jolly. "All departments were instructed to look at areas where cost reductions could be made and, for the Water Services Division, we targeted our pumping system as a means to reduce energy consumption through energy efficiency and better procurement of equipment."
Heathrow's Water Services Division commissioned Xylem Water Solutions UK to undertake a trial on the cargo area of terminal four, which itself has ten foul water pumping stations and a further four storm water stations.
"After Ian and his Water Services Division team advised me of their requirements, I recommended the use of our Flygt Experior range," said Tony Price, Market Development Manager at Xylem Water Solutions UK.
"The Flygt Experior range consists of a smart pump controller, high efficiency motor and adaptive hydraulics. All these factors work interactively with each other to deliver the lowest cost of ownership for foul pumping stations, making the range the ideal solution for Heathrow."
Xylem engineers installed two of its Flygt Experior Adaptive 'N' submersible sewage pumps and two SmartRun Intelligent Pump Controllers in the cargo area's sewage wet well in just under six hours.
"One of the main benefits of the Flygt range to Heathrow Airport is its use of adaptive hydraulics," said Price. "It is not uncommon to find that the smaller applications, particularly ones that are dealing with vast amounts of water like Heathrow, don't have sufficient torque in the motors for the impeller to turn and pull the solids through. There is the option of installing a larger motor in the pump, but this isn't an ideal solution as this increases energy consumption. Instead, we look at the hydraulics to make the pump better at handling solids or large raggy material.
"Flygt's innovative adaptive hydraulic technology incorporates a unique swept back leading edge on the impeller, which results in sustained improved efficiency over the pump lifespan. This means that should a very large solid present itself, the impeller will rise up the pump shaft to allow the solid to pass before returning to its normal position. As a result, the number of soft blockages is significantly reduced, allowing for a more reliable and consistent performance, and fewer maintenance call outs.
The two SmartRun Intelligent Pump Controllers that accompanied the Flygt 'N' pumps enabled Heathrow's Water Services Division to immediately monitor the specific energy use of the pumps during their normal pumping cycle. It works by reducing a pump's speed on every pump cycle until the minimum specific energy is found. The pump controllers then continually adjust the pump speed to ensure that the minimum specific energy available for that site is being used for all pump cycles throughout the year. 
"Being one of the world's largest and busiest airports, with more than 191,000 passengers going through our terminals each day, it's vitally important that Heathrow utilises a pumping system which not only reduces energy consumption, but maintains the highest operational levels," said Jolly.
Twenty months on from the installation, Heathrow has witnessed some impressive results. Running with an optimum efficiency of 30 - 33Hz, the pumps in the cargo holding area have cut the energy consumption of the pump station by around 50 per cent, with the drives adapting into the new panels, equating to a saving of more than £12,000. There have been no maintenance call-outs and blockages have been virtually eliminated; the site has seen a reduction in energy from 6 MwH/annum to 4.1MwH/annum.
Jolly concluded: "The adaptive hydraulics of the Flygt 'N' pumps and the SmartRun Intelligent Pump Controllers have provided Heathrow Airport with not only a significant reduction in energy, but have minimised our maintenance costs and operation downtime to almost zero, ensuring a minimum payback of only three years.
"Having reaped such large rewards in such a small period of time, we are now working closely with Xylem Water Solutions and their design team to provide four further Flygt 'N' pumps and SmartRun Intelligent Pump Controllers to our main building in terminal four."