New South East Water laboratory given UKAS mark
South East Water's new laboratory facilities in Hampshire have been given the seal of approval by the UK Accreditation Service (UKAS).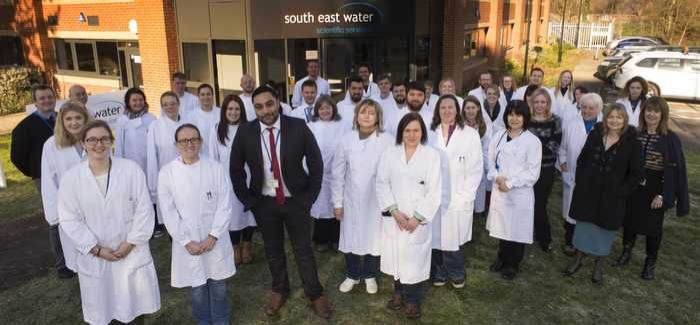 Scientists and staff at the laboratory in Farnborough, Hampshire
The company's laboratory, which recently relocated to new facilities at Southwood Business Park, Farnborough, was assessed for monitoring water quality by UKAS in a five-day assessment visit.
Assessors were impressed with the new facilities after staff at the water company completed its relocation from its former home in Frimley, Surrey, to the new state-of-the-art 30,000 square foot, purpose built laboratory.
The assessment commended scientists at the laboratory for their analytical excellence, motivation and enthusiasm, with their analysis being measured against strict international quality standards and drinking water specifications.
Richard Brown, Laboratory Manager at South East Water, said: "UKAS accreditation is an important accolade for the company and we are delighted to get great feedback from the assessors about our performance over the last 12 months.
"Our latest assessment comes on the back of an important year for the team at South East Water's Scientific Services as we have completed the move into our new state-of-the-art laboratory here in Southwood, Farnborough.
"Holding UKAS accreditation means our customers can remain assured they are receiving top quality drinking water from their taps and it confirms we have high quality testing systems in place to make sure it stays that way."
Jon Murthy, Marketing Manager at UKAS, said: "Congratulations to everyone at South East Water's Scientific Services on their achievement. The Drinking Water Inspectorate makes it mandatory for laboratories carrying out the analysis of drinking water to be accredited by UKAS. 
"The assessment process is rigorous and independent, underpinning both customer and regulator confidence across a wide range of industries."
More than 70 staff at South East Water Scientific Services operate the laboratory 24 hours a day, 365 days a year carrying out over 500,000 tests annually for South East Water and more than 250,000 for other commercial customers.
These include other water companies, blue chip businesses, environmental health organisations, private water suppliers and building maintenance companies.