New nitrate removal plant for Yorkshire Water in Hull
Nitrate levels at Yorkshire Water's Tophill Low Water Treatment Works - which supplies half of Hull's daily drinking water - have been brought well within quality limits after the installation of a state-of-the-art nitrate removal solution.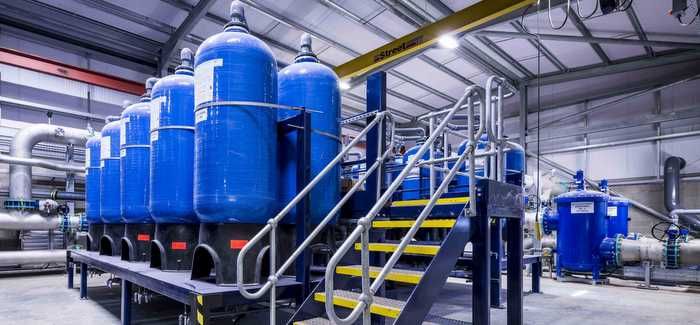 The nitrate removal solution in place at Tophill WTW
The utility is using the Nitreat process, developed by ACWA Services, at Tophill as the centrepiece of an overall £7.5M drinking water improvement scheme led by Amey.
Operational since July this year, the solution enables Yorkshire Water to combat rising nitrate levels from the river Hull, which had previously caused costly plant shutdowns. The Ion Exchange nitrate removal plant is designed to treat 22 million litres per day in the process, reducing nitrates from a maximum of 64 mg per litre to 5 mg per litre. The treated water is then blended with the remaining drinking water flow to ensure that 68 million litres of water per day are within the target nitrate concentration of 44 mg per litre or below.
The new plant is installed downstream of the plant's existing rapid gravity filters (RGFs) in a side stream arrangement and consists of two 50% duty Ion Exchange skids to provide a robust and flexible solution able to cope with large variations in flow and nitrate levels, configured to provide the best possible treatment at Tophill Low.
It is the second such nitrate removal plant installed by Yorkshire Water, which also has a 90 million litres-per-day plant at Keldgate WTW.
Peter Brewer, ACWA Services' UK General Manager said: "Our focus throughout has been to provide a robust and future proof water quality solution, collaborating with Amey and other contractors to overcome a number of technical challenges to satisfy the demands of both Yorkshire Water and the Environment Agency. We are delighted to be involved with this, our second Nitrate removal project for Yorkshire Water, the largest of their type in the UK."
"The Nitreat continuous counter current Ion Exchange system is a landmark improvement on conventional 'batch' treatment systems, enabling exhausted resin to be continuously regenerated, rinsed and returned to work, with all phases of the cycle occurring simultaneously."
Constructing the solution off-line made it possible to deal with many of the detailed design elements including process, mechanical, electrical and instrumentation works, and to minimise the impact on the nature reserve, said Brewer. It also meant that fewer shut downs and interruptions to the plant were required, particularly when connecting to the existing RGF outlet pipework.