New nitrate removal plant for Anglian Water's Retford WTW
Water and wastewater solutions provider ACWA Services has been contracted to design and build a new state-of-the-art nitrate removal plant for Anglian Water's Retford Water Treatment Works near Worksop in the East Midlands.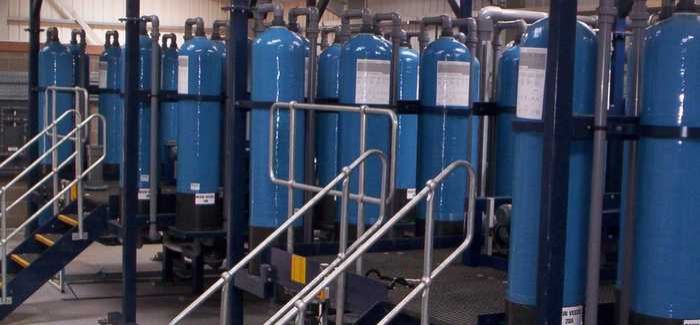 ACWA's Nitreat solution in place at another Anglian Water site
The contract covers design, installation and commissioning for all process, mechanical, electrical and instrumentation works for ACWA's Nitreat Ion Exchange process. Once operational, the process will treat a total works flow of 12.9 million litres per day, drawn from Retford's existing boreholes. Treated water from the process will be blended to meet DWI target nitrate concentrations of less than 50 mg per litre. The ten-month project is due for completion at the end of 2016.
The Nitreat system is a counter current continuous ion exchange process for nitrate removal utilising a patented multi-port distribution valve. This distributes the feed and regeneration flows to multiple resin pressure vessels, with process flows including absorption, displacement, brine regeneration and regeneration rinse, all cycled by the distribution valve.
The benefit of this approach, aside from its small footprint, is that it replaces traditional 'batch' treatments requiring 'standby' resin vessels. Instead all aspects of the process - adsorption, displacement, brine regeneration and regeneration rinse - operate continuously within a single process stream. Waste production is also a fraction of that of conventional plants, typically 0.5% of the works flow compared with up to 10% for some systems.
Paul Naylor, Regional Supply Manager for Anglian Water said: "The introduction of ACWA 'Nitreat' solutions over the last ten years has brought with it significant operational benefits and enabled excellent compliance with stringent water quality standards – allowing us to give excellent service to our customers. In addition, with our Optimisation team approach – consisting of a named technician and scientist working together with a common goal of optimising the plants they own – we have ensured that our operating and maintenance capabilities have grown with our assets base. We now operate 16 of these plants across our region with further additions to come.  ACWA and our Capital Delivery Alliance have provided excellent support along this journey."
Commenting on the new contract Peter Brewer, ACWA Services' UK General Manager said: "We are delighted that Anglian Water continues to select ACWA for these important water quality projects. A programme of continuous improvement working closely with Anglian Water has enabled us to develop a highly resilient solution with a standard design that could be utilised for all sites, offering low power consumption, low salt usage and low waste production.  The resin regeneration and backwash take place in-situ without interruption to the nitrate adsorption process, thereby eliminating the need for long periods of shutdown or extra cost."
With this latest project the total daily volume of UK drinking water now relying on ACWA nitrate removal is now in the region of 360 million litres per day. Other Water companies utilizing the technology are Cambridge Water, Severn Trent, Thames Water and Yorkshire Water.