New Flood Forum captures national mood
Could the launch of WWT's Surface Water Flood Forum - in Birmingham on February 11, 2014 - be more timely? As the UK reels from wave after wave of winter flooding events, the issue is again at the top of the national news agenda.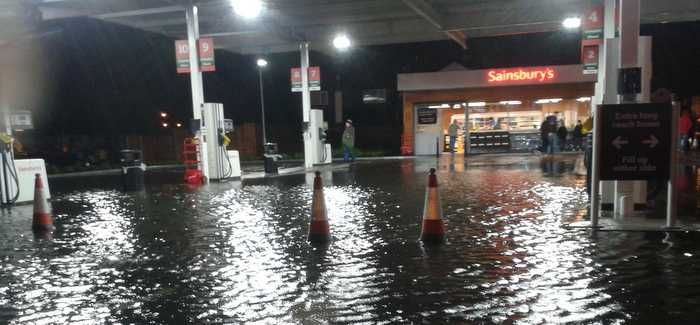 Flooding closes a petrol station in south-east London on New Year€"¢s Day
The government is reaping a barrage of media criticism for its swinging cuts to the Environment Agency, which has lost more than 1,100 jobs since 2009 and will lose another 1,700 by October this year. Issues like river dredging and flood defence maintenance spending are now the concern of householders, farmers and businesses across the UK.
The inevitable repercussions stemming from the neglect of key recommendations of the Pitt Review, prompted following the 2007 floods, are also being played out in the mainstream. These include failure to increase funding (it is projected to fall by about £100M from 2009/10 to 2015/16) and the lack of a government committee dedicated to building resilience or planning for flooding.
It is estimated that more than 5.2 million properties in England alone are at risk of flooding, with 2.8 million at risk from surface water incidents. Water & Wastewater Treatment (WWT) has developed the Surface Water Flood Forum as a platform for water companies, lead local flood authorities, internal drainage boards, contractors, big land owners and regulatory bodies to address the technical, financial, and operational challenges that surface water flooding presents.
Senior representatives from the Environment Agency, Anglian Water, Thames Water, Scottish Water and local authorities including Essex and Lincolnshire county councils will join other stakeholders to explore the challenges and best practice that is delivering community resilience on the ground.
Chaired by Brian Morrow, United Utilities' climate change adaptation manager, the event continues the dialogue for improved mapping and modelling, stakeholder and community engagement and flood protection.
Click here to view the full programme.