New £4.5M treatment works for Highland village
Scottish Water has completed the installation of a new water treatment works in Lochaline in the Morvern peninsula, using the latest technology to ensure delivery of a high quality water supply for customers long into the future.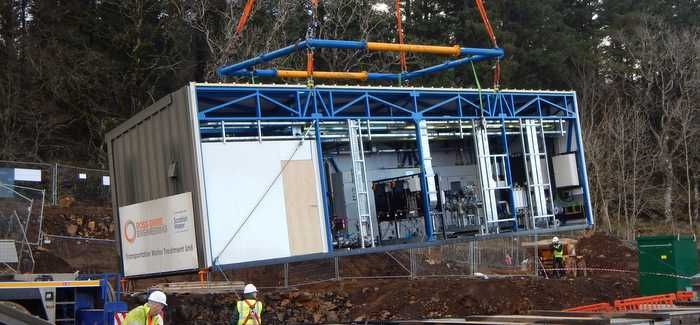 The TTU being lowered into position by crane
The £4.5M project involved the design, build and installation of a new Transportable Water Treatment Unit (TTU), which is now fully operational.
The work was carried out on Scottish Water's behalf by alliance partner ESD and contractor Ross-shire Engineering.
The TTU was designed and assembled at Ross-shire Engineering's base in Muir of Ord before undergoing comprehensive testing. It was then divided into modules and carefully prepared for the 118-mile journey by road to its permanent home via the A9, the A82 and the Corran ferry crossing.
Jeff Forrester, Project Manager from ESD, said: "Part of the challenge with a project like this is the potential disruption to the local community and the whole team was committed to keeping this to a minimum.
"The advantage of a transportable treatment unit is that the programme is reduced and the amount of traffic is kept to a minimum, meaning less disruption for the local community. We started work on site early this year and construction was completed before the summer, so a very quick turnaround was achieved."
A new pipeline was also installed through the nearby forest to provide the new treatment works with raw water.
Preparatory work has also been carried out for a further phase of work which is planned for next year, to improve storage capacity and accommodate potential future development in the area.
Gavin Steel, Scottish Water's Regional Communities Manager for the Highlands, said: "This project is a great example of Scottish Water, ESD and Ross-shire Engineering working together to deliver a positive result for our customers.
"The innovative engineering that went into the solution for Lochaline was carried out in the Highlands for the Highlands, reflecting the growing capacity that exists in our local supply chain.
"We would like to thank local communities for their patience while our team was working in Lochaline – and particularly while the treatment unit modules made their steady journey to the site via road and ferry earlier this year."