New 2,300-property development near Edinburgh gets connected
Scottish Water Horizons has completed work to connect the third phase of a new 2,300 property village near Edinburgh to Scottish Water's network.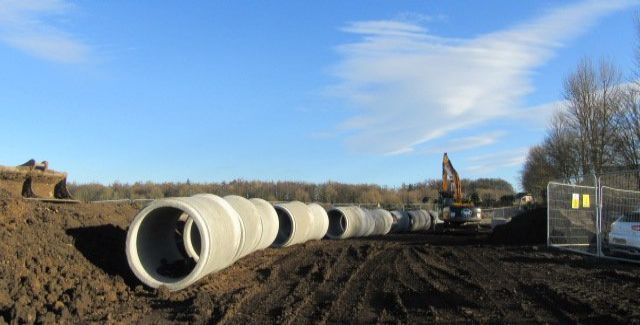 The team has been working with Stirling Developments on the new Calderwood development since 2010, providing consultancy services for both water and wastewater infrastructure. 
The design and build of a new water main was completed in 2017, which will supply the whole development with drinking water.
The sewer upgrade was recently completed and was carefully designed to ensure that it not only meets the current needs of the new community, but will be support ongoing future development.
Scottish Water Horizons designed and delivered a new reinforced concrete pipe which runs in parallel with an existing sewer in open farmland opposite a residential road. The 1350mm diameter pipe, which measures 156m in length, will only operate in storm conditions to support flood prevention.
Working near residential properties in an area widely known for its beauty, the company and its contractor George Leslie Ltd were careful to keep the landowner, stakeholders and nearby residents informed throughout the construction process.
Ray Kirk, Director of Projects at Stirling Developments, said, "Scottish Water Horizons worked closely with us throughout the project to ensure the best possible solution to support required infrastructure upgrades. We were really pleased with the outcome and look forward to working with Scottish Water Horizons on the next phase of the Calderwood Development."
Stewart Imrie, Project Manager at Scottish Water Horizons, added: "We were delighted to play a key role in helping to deliver this new sustainable village so close to Edinburgh. The new infrastructure will ensure that both new and existing customers will be able to enjoy a reliable water and wastewater service long into the future."
The development, which is being delivered by Dunfermline-based Stirling Developments, will focus on community living through the provision of open spaces, new shops, a primary school, businesses and community facilities, with a quarter of the new houses being affordable homes.
Scottish Water Horizons Ltd is a commercial subsidiary wholly owned by Scottish Water. The company plays a key role in supporting the development of Scotland's sustainable and circular economy by making the most of the public utility's vast array of assets.