Network Rail issues multimillion-pound bill to Thames over burst main
Thames Water is facing 'a multimillion-pound bill' from Network Rail with a burst water main and several other leaks having caused severe disruption to the rail route between St Pancras and Farringdon since last Friday (January 23). According to Network Rail, more than 1,000 trains have been cancelled since the first main burst with a further 133 hours of combined delays to those trains that have been running.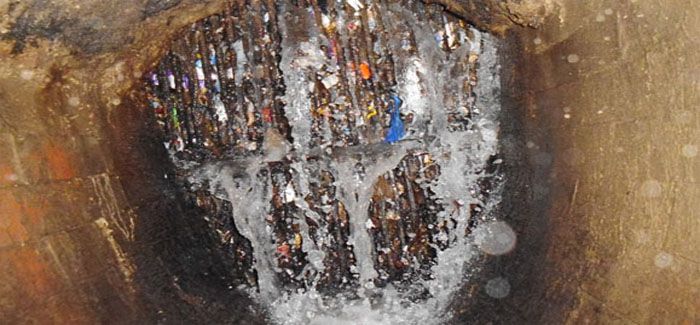 Thames Water says a blocked grill meant the water could not drain away
More than one million litres of water have been pumped from the tunnel in central London since the 16-in Thames Water main burst last Friday and another series of leaks was discovered on Tuesday. Some of Thameslink's trains have been damaged by the floodwater, which will lead to some shorter trains and possible cancellations.
Phil Verster, route managing director at Network Rail, said: "Passengers have suffered a lot this week as a result of Thames Water's burst and leaking pipes. We continue to work with Thames Water but the overwhelming extent of the continued flooding made it unsafe to run normal through services between London St Pancras and London Blackfriars since Sunday.
"We have several high output pumps operating but the service is still hugely delayed. We expect Thames water to reimburse passengers, train operators and Network Rail for the significant consequences of these water leaks."
Thames Water has been working around the clock with Network Rail to try to manage the water levels with pumping equipment, and specialist teams are carrying out full assessments of the pipe and checking roads nearby for any other additional leaks.
Thames Water director Bob Collington said water in the tunnel cleared "as soon as we cleaned out Network Rail's surface drainage system", adding that the pipe was full of silt and debris, and a grill that would have allowed the water to drain away was blocked solid.
Collington said: "We believe this problem was first identified as far back as 2007, and the problems with water on the track have been caused by a lack of maintenance on their part. Our teams have done a fantastic job resolving this issue, and we will be presenting our findings to Network Rail as part of a full investigation into what has caused this terrible disruption to passengers."