MUS trialling exoskeletons for Yorkshire Water contract
Morrison Utility Services is running field trials with high-tech, spring-loaded upper body exoskeletons to reduce the strain of manual handling.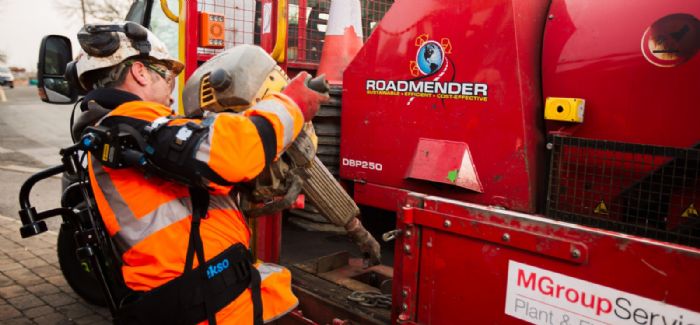 A trial programme to explore the benefits of Ekso Bionics' EksoVest technology is already underway and being spearheaded by Morrison Utility Services' Yorkshire Water contract team.
EksoVest, which has been used in the automotive and aerospace industries, is a wearable upper body exoskeleton that is designed to support a worker's arms while performing overhead tasks.
By providing lift assistance of up to 6.8kg per arm, the EksoVest reduces the strain and fatigue on workers, lowering their overall risk of injury. In addition, workers are able to complete tasks in a shorter amount of time while maintaining or improving the level of quality.
This ongoing trial programme includes:
Lifting and handling activities in the company's Normanton stores depot and around hoppers used by site clearance support teams
Supporting reinstatement teams using the company's purpose-built Roadmender asphalt unit
Supporting backfill teams loading and unloading rammers onto the sides of vehicles
Morrison Utility Services executive director John Edwards said: "Augmenting human capability offers scope for significant safety, health and wellbeing benefits for our people working in the field, some of whom are involved in physically demanding, repetitive activities over extended periods of time.
"The benefits of this wearable technology will include reduced tiredness, a reduction in strain-related injuries and the ability for our people to work for longer periods without any detriment to their wellbeing.
"The use of exoskeletons could also help our sector tackle the ongoing skills shortage, as some members of the workforce could find that the use of such innovative wearable technology may help them carry out the more physical aspects of a job, thus opening up otherwise lost opportunities."
Utilities managing director Trevor M Hoyle commented: "This is yet another example of Morrison Utility Services leading the way on innovation for the benefit of our clients and our staff."