Murphy picked for UU outfall pipe deal
United Utilities (UU) has awarded a deal to Murphy to improve bathing water quality in Blackpool.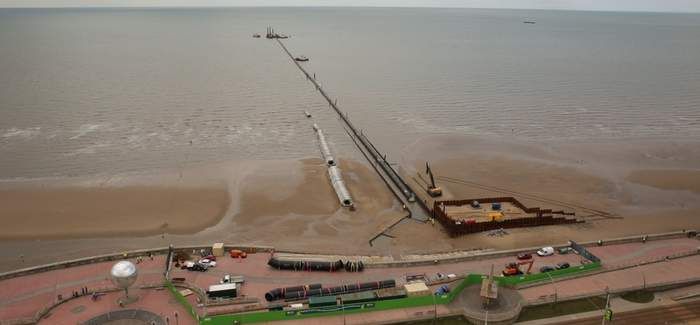 The Harrowside outfall
Drawing on its specialist marine services (formerly known as Land & Marine), Murphy's natural resources division will construct the 2.5m diameter and 3.7km long Anchorsholme polyethelene outfall pipe, which is believed will be the largest in diameter and length in the UK.
Part of a £100M investment over five years, Anchorsholme long sea outfall forms part of the UU's strategy to improve the bathing water quality along the Fylde Coast. The outfall capacity is specifically designed to allow stormwaters to flow far enough out to sea to prevent it affecting bathing water quality.
Jim Yerkess, operations director for Murphy's natural resources team, said: "We are delighted to have been awarded this contract, which is testament to the skills and experience of our marine services and the successful delivery of our other recent projects for United Utilities. We look forward to working with all the local stakeholders to successfully deliver the Anchorsholme long sea outfall project."
Steve Wong, UU stakeholder relations manager, said: "We have worked closely with Murphy previously as part of our investment to improve the quality of bathing water along the Fylde Coast. We are pleased that the same team will be involved in the project to lay the second outfall pipe. Murphy has proven more than capable of delivering such a complex scheme."
The planning, procurement and design stage of the project is now underway. Mobilisation onsite is scheduled for March 2017, and the works will involve the construction of a 500m long sheet piled cofferdam on the beach with dredging operations out to 3.7km offshore.
The pipeline will be assembled off-site and towed to Blackpool for installation in August next year, followed by trench backfilling and diffuser installation works.
The Murphy work barge, LM Constructor, will be used for the marine operations including installing hundreds of large concrete collars and ballast weights needed to ensure the stability of the polyethylene pipeline. The outfall project is due for completion in December 2017.
Murphy successfully completed the Harrowside outfall construction project for UU in 2015. This project included hydraulic flow modelling for the pipeline and diffuser, design, assembly, installation and commissioning of a replacement for the dilapidated existing cast iron outfall pipe, which was originally constructed in 1938.
A new 2.1m diameter solid wall polyethylene gravity outflow pipe was designed and constructed to discharge the consented flows 1km offshore. Modifications were made to the chamber underneath the seawall and promenade to divert flow from the old pipe and into the new outfall pipe, allowing decommissioning and removal of the existing outfall.
The final stage of the project was to install concrete kennels and mattresses over the pipe, extract 1,500 steel sheet piles, remove the existing outfall and return the sea bed to its natural state.