Multi-sectoral approach vital to sustainable water future
Co-operation between businesses, water companies and the government will be key to managing scarce water resources and securing future supplies, according to a report from the Cambridge Institute for Sustainability Leadership.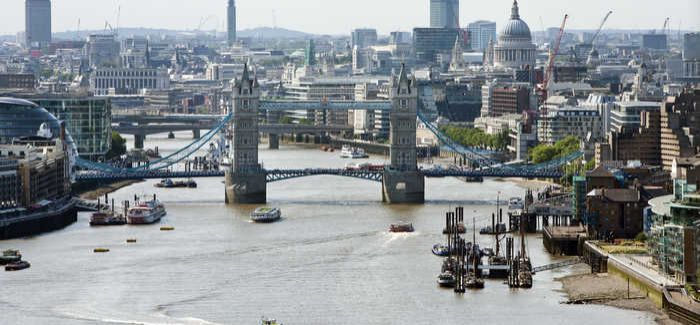 Water stress is a concern in London and the South-east
Sink or Swim is the result of a collaboration between nine companies across six sectors that examined new strategies to manage this economically strategic resource, which underpins many business activities. 
The report said: "The UK is facing unparalleled challenges in relation to the sustainable management of its water resources and related ecosystems. These are already affecting businesses across the country. A report by the Institute of Civil Engineers estimated that by 2050, summer river flows could reduce by 35% in the driest parts of England and by 15% for the wetter river basin regions in Scotland. 
"This could put severe pressure on current water abstractions. Water stress is of particular concern in London and the South-East of England, where the population is predicted to increase by approximately 23% by 2035."
Anglian Water chief executive Peter Simpson said: "Ensuring water is carefully stewarded and available in sufficient quantity and quality is vital to business success. Water scarcity can damage productivity, disrupt supply chains, put users in competition with each other and ultimately harm corporate trust and reputation.  
"These risks impact sectors in many different ways, but collaboration and innovation are absolutely key to achieving resilience and to protecting the economy."  
And Asda sustainable business director Chris Brown said: "Inconsistent or unreliable supply of produce – caused by water scarcity or flooding – has a direct impact on supply chains. Retailers cannot act alone to manage necessary water supplies: a collaborative approach is needed, which is why we are pleased to be part of this initiative."
The report presents four financial models, each offering a different approach to achieving multi-sector water investments. It said: "The implementation of multi-sector catchment based initiatives will provide businesses with the capacity to secure water supply during long-term droughts and significantly reduces associated business risks. It would also enable a more integrated planning and financing approach towards water investment and management.
"While each model has its advantages and disadvantages, these financing arrangements provide important foundations to structure and finance the necessary multi-sector water resource initiatives for business to be resilient to the ever-changing climate and demands upon natural capital."
A broad spectrum of options for cross-sector collaboration and finance are set out in Sink or Swim, ranging from more conventional water-company-led approaches to pure private sector initiatives. They challenge the current single sector approach and encourage joint investment by a variety of stakeholders, including water companies, retailers and farmers.  
Financial institutions in particular have a major role to play in investing in a more resilient water system, the report said. "HSBC research shows more than $175B (£104B) is needed to provide universal access to water for all poorly  serviced populations worldwide, assuming the use of low cost technologies. The requirements for initial investments are large, but cumulative benefits of the water and sanitation infrastructure would eventually pay off and thus provide huge business opportunities for banks."