MP visit for Severn Trent phosphorus trials
Andrew Bridgen, MP for North West Leicestershire, has visited Severn Trent's Packington Sewage Treatment Works to view the company's innovative work ground breaking work on phosphorus removal.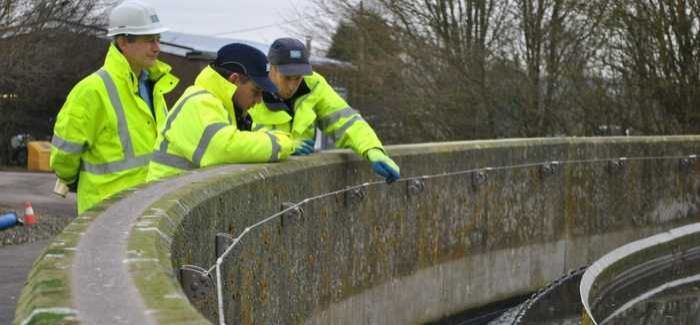 Andrew Bridgen MP visiting Packington
Severn Trent is currently trialling five technologies at Packington, two of which are world firsts, to investigate the best way to reduce the amount of phosphorus entering watercourses from treatment works in line with the Water Framework Directive.
The technologies being evaluated are membrane filtration, nano-particle embedded ion exchange, an immobilised algal bioreactor, absorption media reed beds, and iron dosed sand filtration. The ion exchange and algal bioreactor, both of which were developed by Cranfield University, are being put into practical application for the first time.
"Sewage treatment is something that everyone takes for granted but it's actually a very complicated job that Severn Trent carries out," said Bridgen.
"It was especially eye-opening to see all of the new technology being trialled at Packington as a result of the new legislation on phosphorus removal. The technology Severn Trent is looking at includes some real state-of-the-art activity and it'll be interesting to see what ends up being added to works all over the Midlands."
Water companies are legally obliged to control the level of phosphorus in the wastewater they discharge because of the eutrophication effect it causes in aquatic environments. A natural part of domestic sewage, phosphate is a nutrient and if released unchecked into rivers or other bodies of water it promotes the growth of algae and other plants, turning waterways green and causing hypoxia (lack of oxygen) in the water which kills fish and other aquatic life.
The Water Framework Directive, with its focus on continuous improvement and achieving 'good' status for all watercourses, has led to 0.5-1.0 mg/l limits being typically imposed by the Environment Agency in AMP6, and it is thought that limits as low as 0.1 mg/l will be necessary to meet WFD goals. However most experts agree this is not economically realistic given current technology, which is why it is a focus for innovation.
Pete Vale, technical lead for innovation at Severn Trent, said: "We're always looking at new ways to make our systems better in order to offer the best possible service to our customers and it was a great opportunity to share some of our experiences with Andrew.
"We're still evaluating which technology will work best for us, especially considering that we have more than 1,000 sewage treatment works, ranging in size from small local ones to one of the biggest in Europe."