Mott MacDonald, Microsoft team up on smart infrastructure
Mott MacDonald and Microsoft have announced a strategic partnership to deliver smart infrastructure.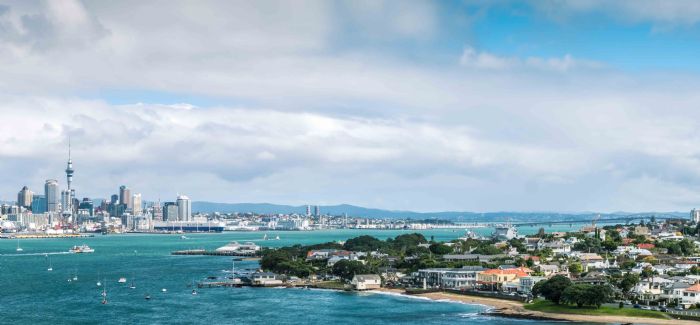 Mott MacDonald's digital twin platform has helped keep the public informed about bathing quality issues in Auckland
The cloud-based smart infrastructure platform aims to help asset owners, cities and governments deliver public services that are sustainable and bring value to everyone.
The new platform will use asset performance modelling, advanced analytics and artificial intelligence.
Trudy Norris-Grey, global managing director of local and regional government and CityNext at Microsoft, said: "This is the first time Microsoft has partnered with a company like Mott MacDonald, which is not only leading the way in developing smart infrastructure but is actually implementing that technology to improve people's lives through better decision-making today.
"Both companies understand how technology can create solutions to current and future problems. By combining our expertise, we will create a smart infrastructure platform and ecosystem that can be rapidly adopted by organisations to improve public services and sustainability."
The effects of population growth mean infrastructure owners need to become more creative, efficient and socially responsible when it comes to managing their assets.
They need to target investment with care and precision. And with rapid advances in digital technology, organisations need to assess how it can assist decision-making and asset management, and better understand where resources and investments should be made.
Oliver Hawes, Mott MacDonald's head of smart infrastructure, said: "Smart infrastructure combines deep domain knowledge, digital technology and outcomes-based thinking to turn data into meaningful information that reveals new insights and empowers decision-making to generate much better results. It is vital that smart infrastructure delivers social, economic and environmental benefits for society, as well as investment return for businesses."
Mott MacDonald and Microsoft will collaborate on projects for current and prospective clients that enable them to fulfil their core purpose and realise their objectives more effectively.
The collaboration between Mott MacDonald and Microsoft will use technology and cloud computing capability, with Azure's continuous multi-layered security, to enable benefits to be realised and shared at scale (over 1 billion data points per day and counting).
Data science and artificial intelligence enable unprecedented insights into the technical and financial performance of infrastructure, leading to better decision-making, enhanced operation, improved resilience and responsiveness, and capital and operational cost-efficiency.
As part of the partnership, Mott MacDonald will move its cloud-based analytics and digital twin platform – named Moata – to Microsoft's Azure.
The platform is already helping Auckland City Council in New Zealand better engage with their customers by improving the accuracy of water quality predictions and the associated public health risk from less than 20 per cent to greater than 80 per cent.
The city-scale digital twin represents the real time interaction between atmospheric conditions, the urban stormwater and wastewater networks, and the marine environment.
By combining engineering principles with modern artificial intelligence, Moata helps Auckland City Council increase levels of engagement with the public and make better informed decisions, driving improved outcomes for the community across the entire £2.6 billion stormwater asset base.
Tom Joseph, head of asset performance optimisation at Mott MacDonald, told WET News: "Our teams are supported by world-class systems including our Moata smart infrastructure digital twin platform, which enables the integration of asset data, including live operational performance, with forecasts and analytics such as hydraulic network modelling to develop predictive digital twins and undertake scenario testing.
"Our wider group recently won the International Data Corporation's Government Insight Smart Water award for the SafeSwim project in New Zealand, powered by the Moata system. To enable infrastructure owners to predict and proactively target bathing water contamination issues, we integrated multiple siloed models into a single operational digital twin.
"Covering 200kms of coastline across the Auckland region and approximately 900km of trunk sewers, SafeSwim combines seven different analytical models (microservices) including network hydraulics and coastal dispersion modelling, with social media feeds and live operational data into a single twin. Built through our collaboration with more than ten organisations, it processes over a billion data points every day and coordinates third-party modelling to deliver real-time water quality insights to both the asset owners and the public.
"The system is now driving optimisation of operational costs during commissioning and operations and has enabled Auckland to prioritise its capital budget by virtually trialling proposed solutions and simulating their performance in the digital twin environment, leading to $400m additional funding on infrastructure to improve water quality.
"SafeSwim demonstrates our information architecture capabilities in integrating existing and new systems and various third party models into a single real-time smart twin to inform decision making and deliver the best outcome for the customer. While we orchestrated the data flow and analytics for the digital twin, all the information is seamlessly connected back to the asset owner's corporate data stores as a microservice using modern APIs.
"Using microservices enables us to flexibly manage the product lifecycle, by controlling upgrades, updates, and retirement of services. It also enables systems integration with the existing enterprise information architecture and technology stack – for example adding new microservices to connect with existing risk management, optimisation, or decision support tools."
Mott MacDonald digital delivery principal Simon Kerr discussed the success of the Auckland project at the WWT Wastewater conference in January.
"Auckland Council set themselves the vision of becoming the most liveable city on the planet," Kerr said. "A lot of that has to do with the quality of their bathing waters. As with most big cities, they have extremely intense rainfall periods that can result in spills into the receiving waters. The typical way of letting people know there's a problem is to stick a sign in the sand but, by the time they've stuck the sign in, there will be people in the water so the opportunity is missed.
"With the network model that has been built over a number of years and is known to be an accurate reflection of the physical asset that was there, combined with 10 key streams of data, we provided a service where the people of Auckland can log in and see not only what's safe to swim in today but, based on rainfall forecasting, what's going to be safe to swim in for the next five days.
"Over a quarter of a million have benefited from this service and chosen a better beach to go and swim in on a given day. Another side effect of this has been a widely supported rate increase because people can see the value of the investment in the infrastructure, so $400 million has been raised as a result, which is contributing to improvements to wastewater treatment works."