Mott MacDonald designs Thames Tideway's eastern section
Mott MacDonald has announced it is designing the eastern section of the Thames Tideway Tunnel for the Costain, VINCI Construction Grands Projets and Bachy Soletanche joint venture.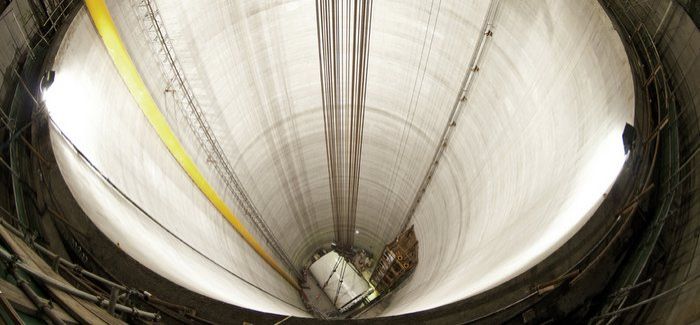 The Lee Tunnel
The East section package includes constructing two tunnels – a 5.5km section of the main 25km tunnel and a 4.6km connecting tunnel for combined rainwater and wastewater – both of which will serve the east of London. Located between 45m and 65m below ground, the two tunnels will be excavated by tunnel boring machines (TBMs) using slurry pressure balance technology. The main tunnel will have an interior diameter of 7.2m, while the diameter of the connecting tunnel will be 5m.
Work on the East package also includes the construction of five large shafts using diaphragm walls to a depth of 72m and with diameters of between 17m and 25m; maritime works on the Thames; associated structures connecting with the existing wastewater collection system; and electromechanical works packages.
Mott MacDonald said an optimisation phase, which includes design and methods, is almost completed and the design team are delivering the first conceptual designs using state-of-the-art building information modelling (BIM) models and processes. The works are scheduled for delivery in 2023.
Michael Francis, Mott MacDonald's project director, said: "It is fantastic to be involved in the creation of one of London's most significant infrastructure projects. The East works package is the deepest section of the project, with tunnels driven by slurry TBMs deep in the chalk up to 70m below the water table. The deep shafts will be constructed using diaphragm walls and the complex hydraulic structures to divert flows require soil mixing ground treatment, secant piles and high-quality concrete meeting the 120-year design life." 
A recent project for Mott MacDonald involved the Lee Tunnel Flow Transfer System where it designed two 500m long, 2.4m diameter gravity pipelines, crossing over London's Beckton sewage treatment works at a height of 6m, to transfer water from the new Lee Tunnel super sewer into the existing sewage inlet works for treatment. The newly opened Lee Tunnel is part of the Thames Tideway scheme which runs from Abbey Mills Pumping Station to Beckton Sewage Treatment Works, under the London Borough of Newham.