Mott MacDonald appointed to £410M Dhaka water project
UK consultancy Mott MacDonald has been appointed by the Asian Development Bank (ADB) to provide technical engineering and procurement assistance on the £410M Environmentally Sustainable Water Supply Project in Dhaka, Bangladesh. The scheme, which is being developed by Dhaka Water Supply & Sewerage Authority (DWASA) seeks to provide 24-hour water supply to all connected households in six service zones of DWASA.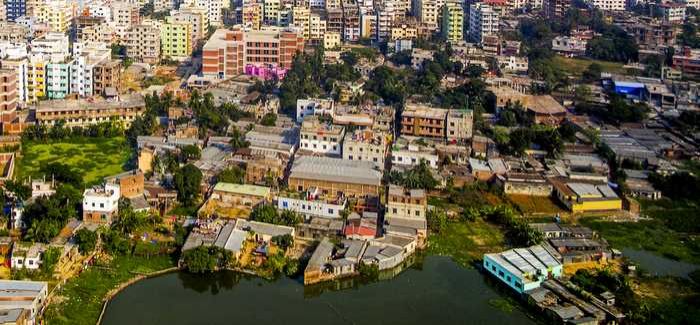 Diminishing groundwater and population growth in Dhaka is spurring development of water resources
Dhaka has an estimated population of more than 15M and is forecast to grow to around 29 million by 2035. Groundwater sources currently form 100% of water supply to households in most services zones, which has resulted in the water table falling annually by 2-3m.
This has led to 40 and 60 deep tube wells becoming inoperable each year. In addition, the Sitalakhya River – the city's main source of surface water – is becoming increasingly polluted.
In order to reduce the dependence on groundwater to 40% of total water by 2021, a new raw water intake will be developed at the Meghna River, about 30km east of the city. This will include a pumping station with a capacity to provide 2B litres of water per day.
Raw and treated water pipelines and an access road will be constructed to connect the intake to a new water treatment plant at Gandharbpur. The new plant will be capable of handling 500Ml/d and will serve the population of around 3M people in Badda, Gulshan, Mirpur, and Uttara.
The funding is coming from a £152M ADB loan and two loans of just over £60M from Agence Française de Développement and the European Investment Bank. The Government of Bangladesh will provide almost £137M. Mott MacDonald will assist DWASA to prepare tender documents for the design, build and operate contacts and review the proposals received from international contractors.
Nigel Osmaston, Mott MacDonald project director, said: "This project is vital to Dhaka's growing population as groundwater sources are diminishing rapidly. These initiatives seek to reduce groundwater extraction by 150Ml/d and help the city water authority raise its overall surface water supplies to 1.9B litres a day by 2021.
"Mott MacDonald reviewed the initial technical feasibility study for the project. Our experts in the UK and in Dhaka will now work together with DWASA to develop the remit for the contracts."
The project is expected to be completed by the end of 2019.