MMB contracts Saxlund to install sludge cake silo at Coalport STW
Mott MacDonald Bentley (MMB) has contracted Saxlund International to design and install a new sludge cake truck loading silo for Severn Trent Water's Coalport Sewage Treatment Works (STW) in Shropshire to improve efficiency.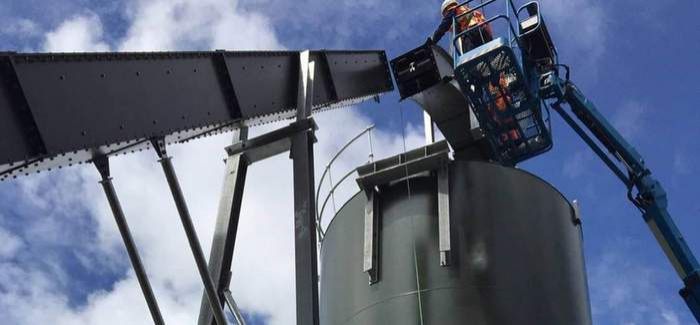 The new raised storage and discharge silo is part of a programme of improvement works carried out by MMB under its AMP6 contract with Severn Trent Water. This will improve handling and loading efficiency of de-watered sludge for onward transportation and processing at new THP sites being developed by Severn Trent Water. The THP sites treat sludges using anaerobic digestion to ultimately produce energy.
The project scope includes the construction of a raised 100m3 circular storage silo designed to allow de-watered sludge to be directly loaded into trucks below. The solution, which will handle 26.3m3 per day, incorporates bio-energy and bulk materials handling specialist Saxlund's sliding frame technology. This ensures consistent discharge of material, as well as chain and screw conveyors with integrated control systems. The £400,000 project is due for commissioning in November 2016.
Difficult access at the Ironbridge Gorge Valley site ruled out a standard steel silo. Instead, Saxlund has specified glass-coated steel panels from Kirk Environmental, delivered in sections and assembled in-situ before lifting into place.
The reciprocating motion of the Sliding Frame draws material to the discharge point in the silo, eliminating any bridging or compaction issues, delivering a uniform drawdown of material on 'first in, first out' principles, essential for materials like sewage cake that will degrade over time.
The benefits according to Mark Neal of Saxlund International are "minimised handling, quick discharge and loading and minimum odour exchange".
He said: "Centralised hubs taking de-watered sewage sludge from regional satellites for conversion to energy is an increasing trend across the UK and Europe. Sludge reception and loading silos to improve handling and transport efficiency at satellite water treatment works are increasing in number and the project at Coalport STW marks our thirty-forth Truck Loading installation in the UK."