Media spotlight for Bewdley flood system
Flood defence specialist IBS is celebrating its recognition during the recent media coverage of flooding in southern England. The system that has received the most recognition has been the demountable defence at Bewdley, which was featured on the BBC's One Show.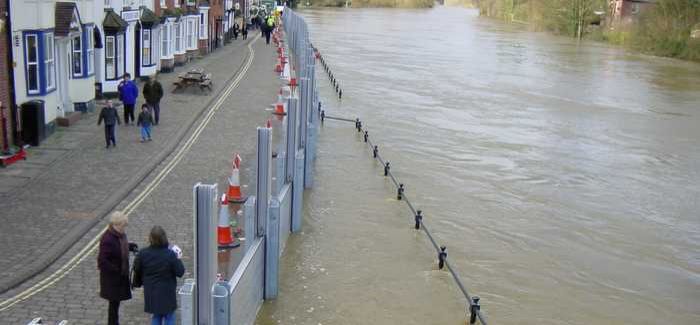 Demountable flood defence protects Bewdley as the River Severn rises
The large demountable system that protects parts of Bewdley when the River Severn breaches its banks, has been called into action almost every year since the scheme was fully opened in 2006 and provides protection from a 1-in-100 year flood event. In total, approx. 650m of demountable flood defences, to a height of over 3m, is used at Bewdley, making it the largest and most successful system of its kind in the UK.
Probably the second most-talked-about installation is the glass wall system at Upton-upon-Severn, recently visited by Prime Minister David Cameron. Sometimes called 'the most flooded town in Britain', in 2012 Upton-upon-Severn finally got the flood defence scheme it needed to protect it from future flooding.
Throughout 2010 and 2011 IBS says it worked closely with the Environment Agency's consulting engineer and civil engineering contractors, as well as Upton's town planning department. In total, 173m of glass was installed on the project at a height of 500mm, which makes it the longest flood defence of its type in the UK. 
Business development manager at IBS, Ray Moulds, said: "We're extremely pleased and proud to have received so much positive coverage of our flood protection systems recently, which have performed superbly, just as we'd expect them to. Hopefully we've given some peace of mind to those homes and businesses that are located behind our defences and that have managed to stay safe and dry.
"Unfortunately the same thing can't be said for many parts of the country and our thoughts go out to all those affected, but hopefully plans will now be put in place to stop this happening again."