Major Newcastle flood scheme complete
A major scheme to tackle flooding in Brunton Park, Newcastle, is complete.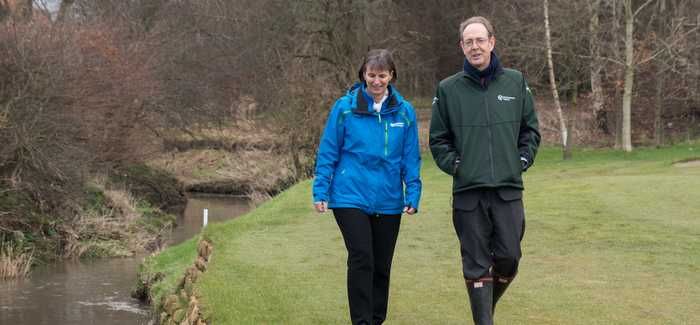 Northumbrian Water CEO Heidi Mottram and EA Chief Executive Sir James Bevan at Brunton Park
Northumbrian Water and the Environment Agency began the £7M joint flood reduction scheme in October 2014.
The scheme will reduce the risk of flooding to more than one hundred properties in Mitford Gardens, Princes Close, Fairway Close, Princes Road, Waterbury Road and Clayworth Road.
The three sources of flooding in Brunton Park were from the water company's surface and foul sewer networks and from the River Ouseburn.
The work involved installing 380 metres of new river channel to divert the Ouseburn from the area that suffers from flooding; using the current section of Ouseburn river channel and a new storage basin to drain and store more than seven million litres of surface water; constructing 650 metres of flood defences (walls and earth embankment) and installing two kilometres of new sewer pipe and a new storage tank, which will hold up to 450,000 litres of water.
The newly created river channel and storage basin, an example of sustainable urban drainage (SuDS), will also create a valuable wetland habitat for wildlife. Kingfisher perches and an otter holt will also be installed.
Paul Davison, Northumbrian Water's project manager, said: "We know that being flooded is a truly awful experience for our customers and reducing the risk of flooding to homes and businesses is our top priority.
"I am very proud to have lead the project team on behalf of Northumbrian Water. The innovation and creativity, which resulted in the best outcomes for customers and the community, were possible because of the partnership approach with the Environment Agency and Newcastle City Council. It was great to be part of the team.
"We would like to thank residents in the area and the City of Newcastle Golf Club for their patience and cooperation. To reinforce how much we appreciate the community's support, and to mark the completion of the work, we are going to hold a celebration event in the next few weeks. We will be sending out invitations soon and hope that residents and stakeholders come along and celebrate with us."
Sir James Bevan, Chief Executive of the Environment Agency, said: "It's our priority to do everything we can to protect people from flooding and we are spending more than £2.5 billion to build flood schemes around the country, which will better protect 300,000 homes by 2021.
"The Brunton Park scheme is an excellent example of how working in partnership, and tackling flooding at all its sources, can result in an integrated and sustainable solution. The partnership meant a better outcome for the community and ensured that the project was delivered with better value for money. This unique project is something we can learn from as we continue to do all we can to reduce the risk of flooding to our communities."
Richard Warneford, Northumbrian Water's Wastewater Director, said: "It is very unique for a water company to deliver an infrastructure project on behalf of the Environment Agency. This is testament that Northumbrian Water is leading the way in the water industry in reducing flood risk for our customers and communities. Tackling flooding is one of our top priorities and we will continue to ensure we are innovative and creative in our approach to improve the resilience of our sewerage network. I am extremely proud of our partnership approach on this project and we will certainly be able to build on the experience of delivering this scheme."
The play park on Lincoln Green had to be removed while this work was carried out. A new play park has been built, in partnership with Newcastle City Council and the local community.