Anglian Water security manager awarded MBE
Anglian Water's security manager, Lynda Chamberlain, who recently retired, has been awarded an MBE in the Queen's birthday honours list.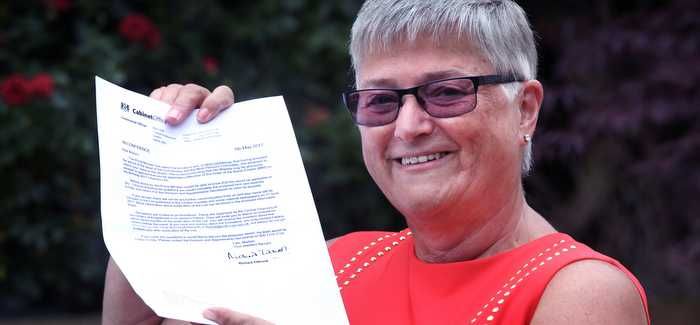 Lynda Chamberlain with her letter from the Queen
Starting as a secretary before moving into business resilience and security, Chamberlain worked for Anglian Water for 41 years. Whilst working in business resilience she was the driving force behind ensuring the company's assets were protected from external threats.
She was nominated by Defra for 'improving the security and resilience of the water sector' and will be invited to Buckingham Palace in the coming months to receive her MBE.
She said: "I didn't know until about 5 weeks ago when I had a letter that I had been nominated. I was absolutely amazed when I heard, and I can't stop smiling!
"It's a brilliant end to a long career at Anglian Water. The day I got the job I remember getting a letter from Anglian Water and my dad saying, 'You've got a job for life there' but at the time I didn't think about that. He would have been so proud to hear this news.
"I went into emergency planning and security in 2000 and soon afterwards 9/11 happened which is hen all the big changes to the industry came. Defra have produced a lot of recommendations and we have spent a lot money and effort on security on our sites since then.
"I feel I've left an industry which is a lot safer than when I started. People often used to ask me how I get to sleep at night with all the threats we need to worry about but you wouldn't do the job if you let it get to you. It's always in the back of your mind when something comes on the news, and events recently have changed things again."