Liverpool WwTW extension to be operational next spring, says UU
United Utilities (UU) says it is on target to get the £200M extension at Liverpool wastewater treatment works operational by next spring. The scheme, when complete will keep the River Mersey clean for future generations and help boost both Liverpool's tourism and economy.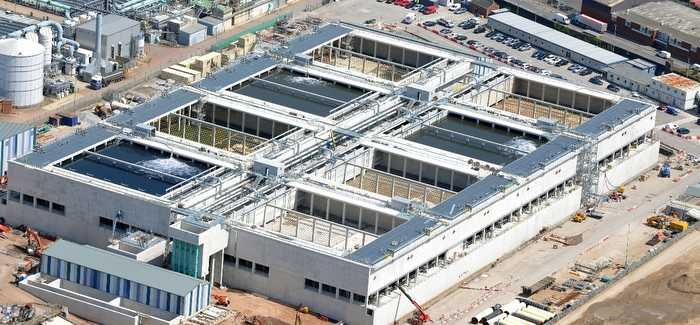 Three of the basins being filled with water to test for leaks. All have passed the test
The extension roof will be added this month. As well as the new extension at Wellington Dock, the existing works in neighbouring Sandon Dock is being improved and a 285m long outfall pipe has been installed on the bed of the Mersey to take the treated wastewater out into the middle of the river.
It will then hit strong tidal currents and be dispersed more widely into the estuary and Irish Sea, reducing the risk of pollution to the coastline.
Lorne Large, United Utilities principal project manager, said: "It's staggering to think how quickly this important building has shot up. It only seems like yesterday we were standing on the side of a water-filled dock.
"It's one of the biggest construction sites in the city and means we will be able to keep the River Mersey clean well into the next century." 
Around 350 people will work at the Wellington Dock site, construction of which began in autumn 2012. It will serve 600,000 Liverpudlians from Crosby to Garston, taking away sewage, and treating it to the highest standards before returning it to the River Mersey.