Lanes removes ten-tonne Chelsea 'fatberg'
Lanes Utilities is removing a ten-tonne fatberg from a sewer under streets in West London.The 50m-long fatberg was so heavy that it had weakened the sewer to the point that it began to collapse when Lanes' engineers tried to remove it.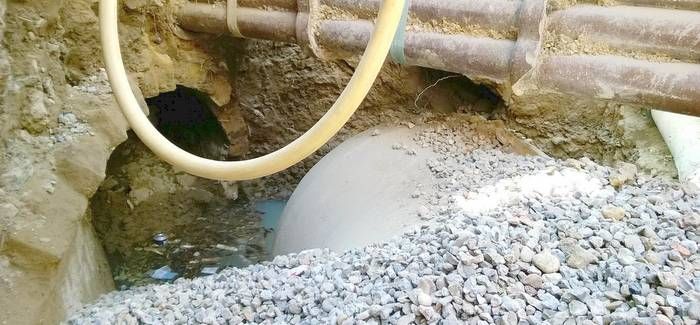 Hand tools were used in places to avoid disturbing other utility pipes
Thames Water concluded the 70-year-old sewer had been damaged beyond repair and had to be replaced. Lanes Utilities is Thames Water's wastewater maintenance and repair partner, and is coordinating work to remove the fatberg and install a new concrete sewer pipe.
Andy Brierley, Lanes Utilities director, said: "This is an example of just what a scourge of sewer systems fatbergs are. They are made up of cooking oils, fats, disposable wipes and other materials that should not be put down the sewer. These congeal into a solid mass that result in problems like this. That's why we fully support Thames Water's campaign to urge customers to 'Bin it - don't block it'."
Engineers had no choice but to remove the affected section of the egg-shaped sewer, which is 1,100mm high and 750mm wide, with the fat still in it. In places, Lanes Utilities' civil engineering partner, Cappagh Browne, has dug down to the sewer using only hand tools to avoid disturbing a complex network of other utility pipes.
Conrad Ashby, Thames Water Framework director for Lanes Utilities, said: "Managing these sewer rehabilitation projects is hugely costly and time-consuming. In this case, contingency plans have had to be put in place to divert sewer water through over-pumping. Traffic management has been introduced during the work, which is taking several weeks."
London's largest ever recorded fatberg, weighing in at 15 tonnes, was found in Kingston in August 2013.