Lanes integrates Scottish drainage businesses
Lanes Group is integrating its Scottish drainage businesses, Castlebrae Drainage Services and Drain Devils, into its group operations with effect from August 1, 2013.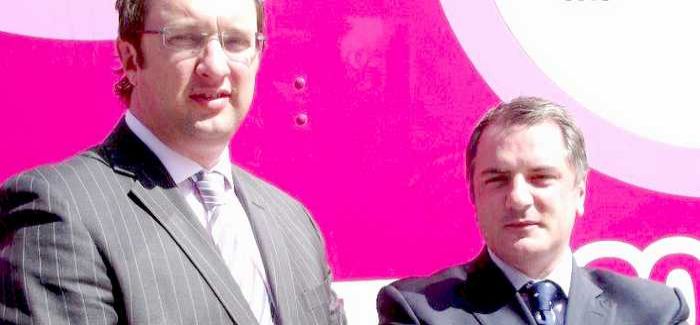 Lanes' Richard Leigh (left) and Francis Cole
The change means that the company will trade under its Lanes Group operational name, combined with its striking pink livery and branding, across all UK operations for the first time.
Lanes Group board director Francis Cole has become lead director of the Scottish business unit to see through the change and realise the significant benefits for the group and its customers.
Cole said: "The change completes the transition of Scottish operations into Lanes Group plc. It is a very positive step, which has been welcomed by our customers. It will significantly enhance our service offer in Scotland, helping us to strengthen current business relationships and develop new ones."
Lanes Group Plc, which has headquarter operations in Leeds and Manchester, bought Castlebrae Drainage Services and its two depots, one in Edinburgh and the other in Glasgow, in 2005. It acquired Aberdeen-based Drain Devils in 2006.
Cole added: "The name change is just the most visual aspect of the process. We are also fully integrating the Scottish operations, including data and financial systems, within the group.
"We believe this will be of significant value to our customers in Scotland. For the first time, they will fully benefit from the financial and operational robustness of the UK's largest independent drainage specialist, a plc with a £100M-plus turnover."
Sales director Richard Leigh said: "Integrating our Scottish businesses fully into the Lanes Group will allow us to use the experience gained from this recent growth to develop our customer base in Scotland. We are confident we will be better able to support the development of our Scottish operations, helping us to increase the number of sectors we operate in and extend out geographical reach."
Lanes Group has built up a strong reputation in recent years across a number of key business sectors. It has won a number of large reactive and planned maintenance contracts, including one for Thames Water in 2012, worth up to £216M.
The group has also had significant success in the rail sector, for example winning major maintenance contracts with London Underground, plus the energy, retail and highways sectors.
The company now operates 23 regional depots across the UK, employing 1,000 people.