Lanes Group launches VR Igloo training in world first
Wastewater engineers working for Lanes Group have become the first employees in the world to experience team training using virtual reality in a 360-degree video theatre.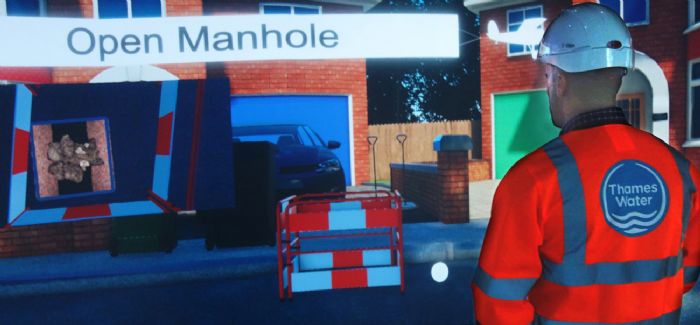 The drainage and water utility specialist's 1,400 employees who work for Thames Water can now use virtual reality (VR) to train together in an immersive digital world where they can test their skills in a safe yet challenging environment.
It is believed to be the first time VR has been combined with a 360-degree video theatre to allow groups of people to train together in an interactive space without having to wear headsets.
Lanes Group director Andy Brierley said: "This is a gamechanger in the way we can train our colleagues, including wastewater engineers who often have to work in potentially-hazardous environments.
"Combining VR with 360-degree video allows us to use cutting-edge gamification techniques to train groups of people, which is both powerful and essential because of the way we work in teams.
"We are already calling the VR modules we're creating 'training games', reflecting their interactivity and the way they draw on digital gaming techniques to increase engagement and enhance learning."
Lanes is the wastewater network services maintenance partner for Thames Water, carrying out up to 1,400 jobs a day, including drain and sewer unblocking, sewer rehabilitation, sewer cleansing, tankering and wet well cleaning.
In 2017, it invested jointly with Thames Water in the Igloo video theatre, based in Slough, Berkshire, to introduce a new, more immersive, approach to training.
It was the first time an Igloo had been used for training. Now VR adds an extra dimension to the Igloo's capability.
Lanes challenged digital communications agency Myriad Global Media to find a way to integrate an HTC Vive VR headset with software controlling the Igloo's projection system.
After weeks of research and development, Myriad's success means groups of up to 15 Lanes and Thames Water employees can enter the Igloo and use VR controllers to interact with 3D animation projected on the screen.
Matthew Radbourne, Myriad's senior business development manager, said: "By alleviating the need to place employees in individual headsets we have developed a new group training experience that merges two great technologies together.
"It's always a pleasure working with a client like Lanes that pioneers new technology, challenging our developers to create unique training solutions. We can now build a comprehensive virtual training environment that works across the entire Lanes business."
A virtual training environment, called Thames Town, containing modular urban and rural environments, allows employees to train, from start to finish, on typical operational tasks.
The first training game created requires operatives to respond to a drain blockage. Vehicle and safety checks, onsite risk assessments, customer communications and actions to diagnose and solve the drainage problem are all built into the step-by-step, highly visual interactive process.
From March 2019, the VR Igloo has been used in induction training for the first time, and has been positively received by new recruits, according to Lanes Group learning and development specialist James Brewer.
Brewer said: "VR adds a wow factor that has impressed the first cohorts of joiners who have experience it. In a competitive job market place, the need to engage recruits from day one to increase staff retention cannot be underestimated.
"VR training is more realistic, it allows our people to develop a richer mix of customer-focussed skills, both as individuals and teams, and it allows us to fully-integrate training of operational and office support teams.
"Over time, the VR Igloo will reduce costs as well, as we can do more training in-house rather than take people on location. The Lanes VR Igloo heralds nothing short of a revolution in the way we train our people."
The VR Igloo is currently only in use at Lanes Group's shared headquarters with Thames Water, but the company is open to discussions about making the technology available for wider use.
To read more about innovation at Lanes Group, including the VR Igloo, click here.