Lanes gets non-routine sewer service contract with Anglian
Anglian Water has awarded a contract to Lanes Group plc to deliver non-routine first- time resolution sewer unblocking services.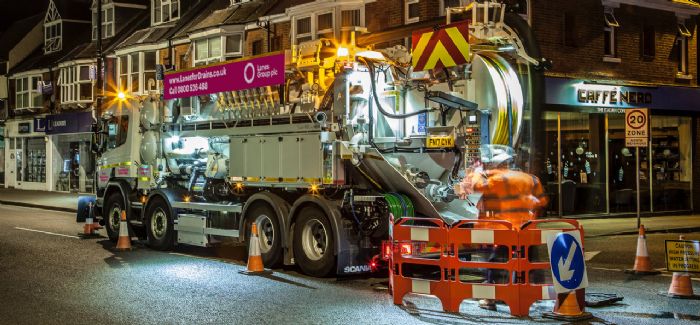 The service is designed to give Anglian Water assurance that it can draw on additional sewer cleaning capacity when and where it is needed most, for example in relation to fluctuations in demands on the sewer system.
Lanes already provides sewer jetting, wet well cleaning and CCTV drainage survey services for Anglian Water, along with a wastewater tankering service, both delivered from a utilities service hub in St Neots, Cambridgeshire.
The contract, which runs until 31 March 2020, will be managed from the St Neots service hub, but Anglian Water will be able to draw on resources from all Lanes depots in the region, including ones at Swaffham in Norfolk and Rainham in Essex.
Lanes Group Development Director Richard Leigh said: "We're delighted to be providing Anglian Water with this very important additional service.
"With weather becoming more volatile and demands on the WNS growing due to population growth, and a range of other factors, it is essential that utility service can draw flexibly on additional wastewater services.
"Our aim will be to provide a highly agile reactive service that can respond rapidly to high priority and emergency sewer cleansing tasks where and when they are needed most.
"I am sure our positive service relationship with Anglian Water, combined with our highly trained and experienced personnel, and modern specialist drainage fleet, will ensure we can do a very good job."
Under the first-time resolution sewer unblocking service, Lanes will be providing blockage clearance services on public and transferred sewers, and emergency CCTV 'look-see' drainage surveys, if needed.
The contract also gives Anglian Water additional capacity to cleanse highway drains, carry out planned preventative maintenance and seek help with one-off sewer projects if needed.