Lanes clears sludge-clogged pipes for GCA
Engineers at Lanes Group have used their powerful jet vac technology to remove more than 50 tonnes of sludge from two discharge pipes at a large water treatment works.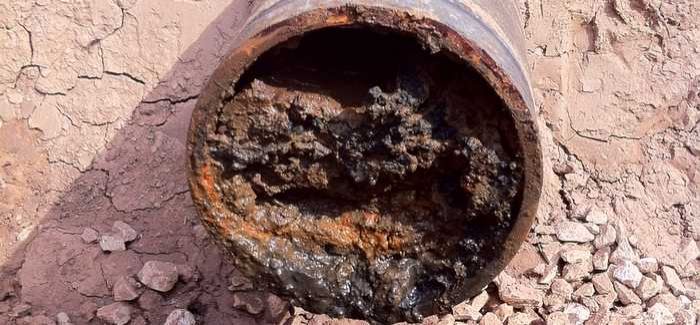 A secondary pipe shows the scale of the blockage
The 270m long cast iron pipes are designed to take sludge-filled water to settling lagoons at the Huntington sewage works in Chester, Cheshire.Over the years, the pipes became increasingly clogged with sludge, so the engineers were called in to give them a thorough clean.
The work was commissioned by GCA, a joint venture between Galliford Try, Costain and Atkins, who undertake improvement schemes to the United Utilities southern area.
Lanes area development manager Ian Clapham said: "This was an unusual job for us. Pipes like these in water treatment works rarely need cleaning in this way. They are built to be largely self-cleaning.
"The biggest challenge was the length of the pipes and the large amount of sludge they contained.
"GCA carried out enabling works, including an excavation to gain access to pipes. We then used a JHL recycler jet vac tanker and a tracked remote jetting reel to tackle the sludge."
The portable jetting reel was attached to the recycler jet vac and used to clean out the sludge, which included a large amount of carbon filter media, up to its 200m capacity.The jet vac tanker's own jetting hose was then attached directly to the jetting reel hose to provide the extra 70m extension required to complete the task.
A total of 55 tonnes of sludge was collected from the pipes, and taken, in seven separate loads, to be deposited in the settling lagoon, where it should have gone in the first place.