Lanes carries out drainage surveys for Manchester regeneration project
Drainage and maintenance specialist Lanes Group is carrying out a comprehensive package of drainage surveys on hundreds of homes on behalf of Pendleton Together in Salford. The work is part of a plan to regenerate an inner city area of Greater Manchester.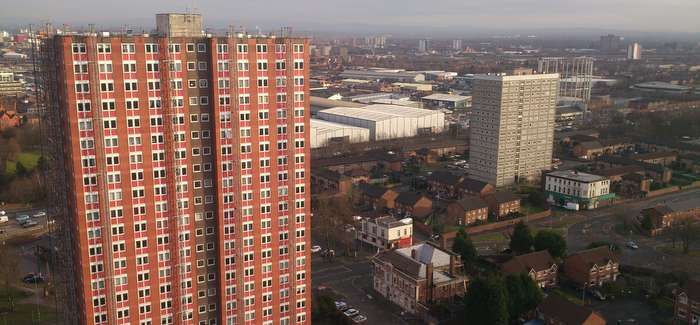 The work also includes surveying dozens of drain pipes running down the side of blocks of flats
The national Pendleton Together is a regeneration project that will create 1,600 new homes and refurbish 1,250 existing ones. Keepmoat is carrying out the work for a consortium of three housing associations.
Lanes' Manchester depot is surveying the underground drainage system serving the 1,250 homes being refurbished. The work also includes surveying dozens of drain pipes running down the side of blocks of flat.
Simon Roberts, Manchester area development manager at Lanes, said: "This is an exciting project for us. Carrying out detailed CCTV drainage surveys is a vital step in regeneration projects like this. The capacity of drainage assets have to be matched to the scale and scope of the development. New living standards and lifestyles put different stresses on drainage systems."
Tim Hough, Pendleton Together senior project manager for Keepmoat, said: "The drainage assets represented a significant risk for us, because we could not be sure of their condition. That is why we have asked Lanes Group to work with us, to precisely map the drainage system, and its condition.
"The drainage survey will also help us later, in the first stages of the new build programme, as it will clearly show how we need to connect new drainage assets to the current system."
Lanes drainage engineers are using HD video cameras, in some cases attached to remote-controlled robot vehicles, to carry out the drain surveys. GPS technology is being used to plot all pipes and manholes, creating a digital map of drainage assets, over which development plans can be laid.
For the downpipes, Lanes is using a push rod drainage camera system - a camera at the end of an 80m flexible cable - to survey foul and rain water pipes down the side of the buildings.