Kijlstra supplies drainage products for Glasgow wastewater improvements
A variety of precast concrete drainage products from Kijlstra have been supplied to Scottish Water's SR15 waste alliance partner aBV, which comprises Amey and Black & Veatch, for use on the wastewater improvement project in Glasgow.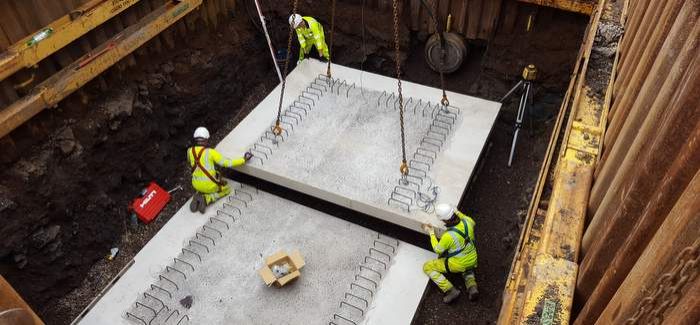 Structures being installed at various sites in and around Glasgow are the pre-assembled Vario CSO chambers, which measure up to 5m x 3m, plus larger CSOs and holding tanks constructed using Kijlstra's panel system.
At Elmvale Row, just north of the city centre, aBV is installing three structures – a screen chamber, flow splitter chamber and a valve chamber - assembled using components from Kijlstra's panel system. The screen chamber and flow splitter chambers have already been installed.
The contractor is also constructing two 25m-diameter underground stormwater storage tanks as segmental shafts at this location using a caisson system.
At nearby Avonspark Street, a similar tank constructed from Kijlstra's Vario range has also been installed.
South of the city at Hugh Murray Grove in Cambuslang, aBV has constructed a CSO using a combined in-situ/precast design. Kijlstra precast panels have again been used here to create the base slabs and roof slabs.
Close by in the Rutherglen district, aBV is installing a large CSO using the panel system. This chamber, with internal dimensions of 5.1m x 2.7m and 4m in depth, is currently in production at Kijlstra's factory in Henlade, Somerset.
Kijlstra has been nominated as a preferred supplier during SR15 and its products have already been installed on numerous other contracts.