Kier Group outlines streamlining plans after strategic review
Kier Group has announced that it will streamline its activities to focus on regional building, infrastructure, utilities and highways following its recent strategic review, with headcount to be reduced by around 1,200.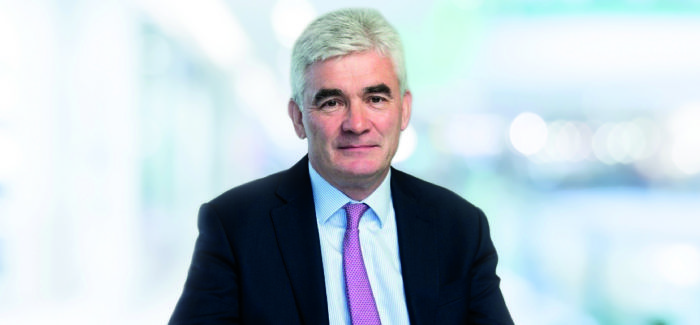 New Kier Group CEO Andrew Davies led the strategic review
Kier, whose net debt at the end of 2018 stood at £180.5 million, announced in April that new CEO Andrew Davies would lead a review with the intention of simplifying the group, better allocating capital resources and identifying additional steps to improve cash generation and reduce leverage.
That work was accelerated over the last month, in part due to ongoing speculation over Kier Group's financial position, and has resulted in the following announcements:
Kier Group will focus on regional building, infrastructure, utilities and highways and simplify its portfolio by selling or substantially exiting non-core activities: Kier Living, property, facilities management and environmental services
The Group will be fundamentally restructured to reduce headcount by c.1,200 and deliver annual cost savings of c.£55m from FY2021
It will aim to embed a culture of performance excellence with a particular focus on cash generation to deliver reduced average net debt
In recent years, Kier Group has grown substantially, with acquisitions including the purchase of McNicholas in 2017.
The strategic review concluded that, during this period, there was insufficient focus on cash generation and that the Group has debt levels that are too high. It also concluded that the Group's portfolio is too diverse and contains a number of businesses that are incompatible with its new strategy and working capital objectives.
Kier Group said it has committed debt facilities of £920 million, with its bank debt not maturing until June 2022 and the majority of its private placement debt maturing between 2021 and 2024.
The Group said: "While some of the recent external commentary has had an adverse effect on confidence, with a consequential impact on the Group's working capital position, the Group's liquidity headroom is able to absorb the volatility that this has caused.
"However, it will result in reported net debt at 30 June 2019 being higher than current market expectations and an increase in FY2019 average month-end net debt to £420 million to £450 million.
"Kier is in regular dialogue with its largest customers who continue to be supportive during this period of volatility. Kier understands that certain suppliers have experienced a reduction in the level of trade credit insurance available to them; Kier is working with those suppliers to mitigate the impact of this.
"The board considers that the revised strategy outlined above, together with the related actions which are now underway, will result in a significant reduction in the Group's net debt during FY2020."
The Group has accelerated the Future Proofing Kier programme since Davies' arrival and, as part of that, approximately 650 full-time employees will have left by 30 June this year, with around 550 more expected to leave during FY2020.
Davies said: "Since becoming chief executive on 15 April, I have visited many of our key locations and spent time with all of our businesses, meeting the leadership teams and many of our dedicated people in the process. I have also met with many of our clients.
"Kier has a number of high-quality, market-leading businesses, in particular regional building, infrastructure, utilities and highways. I believe that these businesses will deliver long-term, sustainable revenues and margins and are inherently cash generative.
"As previously announced, I have been leading a strategic review which has resulted in the actions being announced. These actions are focused on resetting the operational structure of Kier, simplifying the portfolio, and emphasising cash generation in order to structurally reduce debt. By making these changes, we will reinforce the foundations from which our core activities can flourish in the future, to the benefit of all of our stakeholders."
Kier has secured numerous water contracts ahead of AMP7, with a place on Severn Trent's capital delivery build-only framework as well as being named as one of four framework partners for South West Water's £45 million MEICA services programme. It is also part of three Anglian Water alliances.
To read WWT's interview with Kier Utilities' water MD Nigel Dyer, click here