Kielder Reservoir given role in flood protection plans
A new operating plan for Northumbrian Water's Kielder Reservoir is to give it a role in protecting the Tyne Valley from flooding.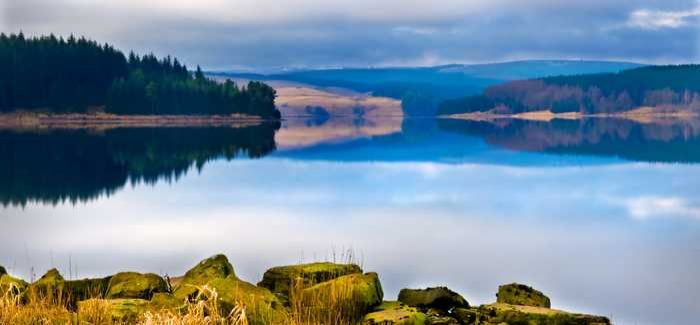 Local people will receive an update on work to reduce flood risk in the Tyne Valley at a public meeting next week.
Northumbrian Water, local MP Guy Opperman, the Environment Agency and Northumberland County Council will explain flood protection work that has been carried out over the last ten months.
Part of this is a new operating plan for Kielder Reservoir, which can hold up to 200BN litres of water.
The plan involves continuing to manage releases of water to the River North Tyne and providing increased storage within the reservoir by operating it at lower levels. During the winter months the aim is to manage Kielder Reservoir at between 76% and 86% full, to provide increased flood storage.
Northumbrian Water and the Environment Agency have reviewed historic reservoir level data to understand when best to reduce levels in Kielder Reservoir in order to provide additional flood water storage.
Welcoming the development, local MP, Guy Opperman, said: "It is great news that we can use Kielder Reservoir as an extra weapon in our flood defences and relieve the flash flood burden on the North Tyne. This will make a significant difference to water levels in the North Tyne and help to reduce impact downstream. Of course, it does not provide total protection, but it is a real help to know that several million tonnes of extra water will be stored in Kielder Reservoir due to this change in water levels in the reservoir." 
Northumbrian Water has also carried out a programme of CCTV surveys, cleansing and maintenance work on over 4,000m of the sewer network in Corbridge, Haydon Bridge, Ovingham, Riding Mill and Warden.
Will Robinson, Water Resources Manager for Northumbrian Water, said: "Flooding has a devastating impact on communities and although we can never mitigate the risk of flooding completely we are taking all steps possible to reduce it.
"Kielder Reservoir has many important roles including providing a water supply to our customers in the north east. Following last winter's storms, we have also looked at how the flood risk to our customers living in the Tyne Valley can be reduced. We have worked with the Environment Agency and have agreed some changes which will provide additional flood water storage within Kielder Reservoir in the future.
"Users of the River Tyne were able to comment on the plans at a recent consultation meeting. The timing of alteration of reservoir levels will be dependent on the weather and other environmental and ecological factors and we will keep this under constant review."
Since the flooding last winter the Environment Agency has invested £3.2M in the North East to repair damaged defences in readiness for winter. This includes substantial work to repair flood defences in Corbridge and Haydon Bridge.
The EA has also been working to identify opportunities for investment in new defences, with initial assessments showing work to be beneficial at Brigwood, Lipwood and Warden South. Projects have been put forward for development funding.
Leila Huntington, North East Flood and Coastal Risk Manager, said: "We welcome the proposal to operate Kielder to provide improved flood storage, which demonstrates how we can work together to identify new opportunities to reduce flood risk.
"While the new storage at Kielder will not make a significant difference in a scenario equivalent to Storm Desmond, it can contribute to reducing risk during smaller events, particularly on the North Tyne."
Northumbrian Water has also developed a new community initiative called "Rainwise" aimed at reducing the risk of flooding. The initiative involves working closely with communities across the region to reduce the amount of surface water that enters the sewer network during times of heavy rainfall.
This is part of the company's wider surface water management programme and will raise awareness about how the public can get involved by managing surface water around their homes and reduce the risk of flooding in their community as a whole.