Kelda waste contract fuels Welsh Water's renewable energy needs
Kelda Water Services subsidiary Kelda Organic Energy (KOE) has signed an £89M Organic Waste Treatment contract to help the Welsh government meet its 2050 Zero Waste target. The deal will see renewable energy delivered to Dwr Cymru Welsh Water.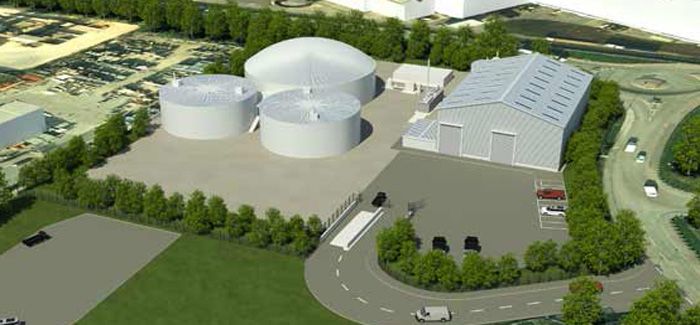 The new recycling facility is to be built at Welsh Water's Cardiff WwTW
KOE, working with Cardiff and the Vale of Glamorgan Councils, will design, build, finance and operate two state-of-the art recycling facilities. Over the length of the 15-year contract, the facilities will recycle up to a million tonnes of kerbside collected food and garden waste. .
An anaerobic digestion plant will be built to process 35,000 tonnes of discarded food waste collected by Cardiff and the Vale of Glamorgan councils annually. Plus, an Open Windrow Composting plant to process 38,000 tonnes of garden waste collected annually by both councils.
Located at Welsh Water's Cardiff Wastewater Treatment Works, the renewable energy produced by the AD process is equivalent to powering approximately 4,000 homes.  This will be used by Welsh Water to offset its need to import energy from the grid.
Mike Pedley, Welsh Water's head of Energy, said: "This is the latest development in our ambitious programme to reduce our carbon footprint and reduce our reliance on Grid electricity. Furthermore, the project would also benefit customers by reducing our overall operating costs so that we can keep bills low and as affordable as possible."
Kelda's commercial director, Tom Hall, said: "We are delighted to sign this long- term contract with Cardiff and the Vale of Glamorgan councils. Construction will begin this summer and we hope to have both sites fully operational by early 2017. We look forward to further increasing recycling rates and supporting the Welsh government in its 'Zero Waste' aspirations."