Kelda Group launches new entrant to water market, Three Sixty
Kelda Group, the parent company of Yorkshire Water, has launched a new player in the non-household water market, called Three Sixty.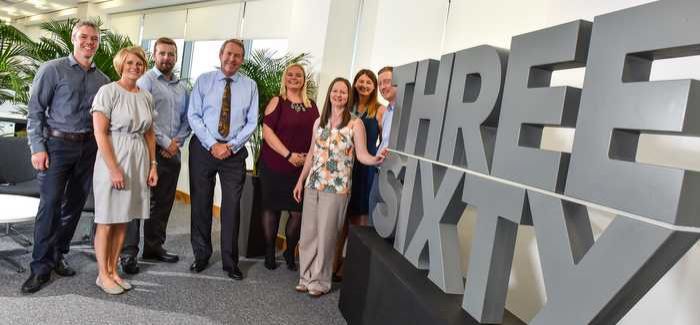 Three Sixty will be led by Robert Marrill (centre)
Three Sixty will be taking a distinctive approach to the market which will be made up of over 1.2 million business customers when deregulation in England comes into force next year. From April 2017, all eligible businesses in England will have the freedom to choose their water and wastewater supplier.
The business will be led by Robert Marrill, former director of Kelda Group's non-regulated business Kelda Water Services.
Robert Marrill, managing director of Three Sixty, said: "Three Sixty is centred around adding value and helping businesses make water work for them, as seamlessly and cost effectively as possible. In launching this new company, we know that what matters most to our customers is the uninterrupted, day-to-day running of their own businesses and we are passionate about helping them achieve this.
"In developing Three Sixty, we have learnt from all the attributes that made our sister company Yorkshire Water and our national water retail company Kelda Water Services Retail so successful and have applied them to this new company, putting customer service at the heart of everything we do. Three Sixty will be easy and straight forward to work with. We will provide real value for our business customers and build on the key strengths, expertise and decades of experience we have in the Three Sixty team."
Three Sixty will work with businesses nationally to help them save money, time, become more responsible, sustainable and reduce risk, he added.