Isle of Dogs pumping station receives listed status
An iconic Thames Water pumping station on the Isle of Dogs in East London has been declared a Grade II listed building by Historic England.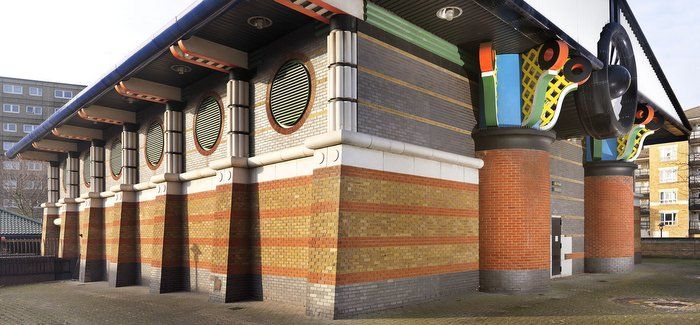 The Isle of Dogs pumping station was built in the late 1980s
The site on Stewart Street was given listed status due to its unique design by British architect John Outram. The listing is a result of Historic England's Post-Modernism project, which is giving listed status to more structures built in recent decades.
The storm water pumping station has been in operation since it was first designed by Outram and built in the late 1980s. It becomes active during periods of heavy or prolonged rain when the main sewer network fills up and pumps excess water directly to the River Thames to prevent flooding.
Site manager Gerry Sullivan said: "The building has always attracted attention from passers-by and certainly doesn't look like the average pumping station, but it was still a surprise when Historic England got in touch to say they were interested in making it a listed building. Its new-found fame won't change it though and it will continue to play an important role in managing storm water and reducing the risk of flooding on the Isle of Dogs for many years to come."
Roger Bowdler, Historic England's Director of Listing, said: "John Outram's pumping station was one of the most exciting buildings of the 1980s. Outram exulted in the panache and exuberance of Classicism, and gave this utterly functional structure an exterior which is unforgettable. It is vital that we keep the List up to date: it's really exciting that we are starting to see the very best of Post-Modern buildings find their place among England's finest works of architecture."