Iron sediment research wins SWIG prize
Research on optical profiling to detect iron concentrations in sediment pore water has earned a PhD student from the University of East Anglia the winning prize in the Sensors for Water Interest Group (SWIG) 2016 Early Career Researcher competition.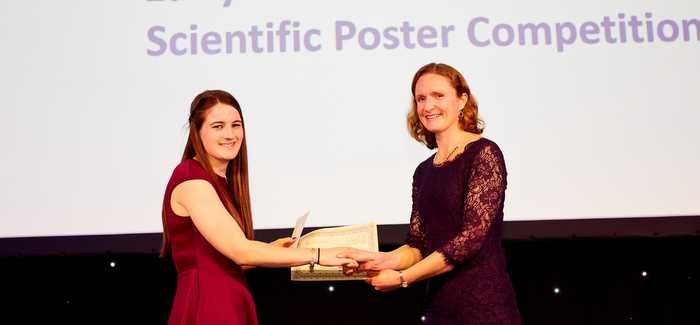 Zoe Goddard receives her prize from SWIG's Rosa Richards
Zoe Goddard's scientific presentation and poster display at the Water, Wastewater and Environmental Monitoring (WWEM) conference last week was judged the best and she was presented with a trophy and cheque for £1,200 during the gala dinner at the event in Telford.
Her research, entitled 'Optically-Profiling Diffusible Iron Concentrations in Sediment Pore Water' outlined a valuable technique that could also be adapted to detect other environmental pollutants.
"The SWIG Early Careers Researcher Poster competition was an amazing experience for me," said Goddard. "The water industry is an area with lots of prospects for exciting innovation and I was honoured to win this award with so much amazing research on display. It has greatly increased my confidence in my research and my ability to present it to a wider audience. I look forward to continuing my research and seeing where this idea can go. I would like to thank my supervisor, Dr. Andrew Mayes, for all his support throughout my project."
Second prize and £500 went to Elena Koutsoumpeli for her research into the use of affimers (artificial antibodies) for the detection of environmental contaminants. The third prize of £200 was awarded to Kevin Martins for his research into the use of radar to study wave propagation.
The ten shortlisted posters of the Early Career Researcher Prize on display at WWEM generated a lot of interest from the water sensor industry, who were keen to learn more about the exciting research currently being undertaken into water sensing.
The aim of the SWIG Early Career Researcher Prize for Sensing the Water Environment is to raise awareness of technological development and novel applications related to water measurements and thereby promote innovation in sensor research and commercial application. The competition is run every two years and is open to all 'early career researchers' within the first 4 years of employment within their area of expertise.
SWIG is a not for profit knowledge exchange and networking organisation which focuses on the use of sensor and associated technologies for use in water and wastewater treatment processes and infrastructure, as well as in natural environments and waters.
Zoe Goddard is a PhD student from the University of East Anglia.