Irish Water starts Ardsbeg Treatment Plant project
Irish Water has started a project to build the new Ardsbeg Water Treatment Plant (WTP) which will ensure a high-quality water supply for 5,000 local consumers in north west Donegal.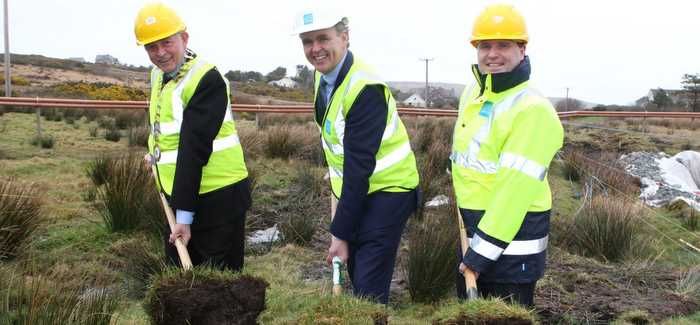 L-R: Cllr Terence Slowey (Donegal County Council), Minister of State Joe McHugh T.D, and David McLoone (Irish Water)
The works are part of a €3.8M investment by Irish Water in the Gortahork/Falcarragh Water Supply Scheme and will enable the decommissioning of the existing Ardsbeg WTP. The investment forms part of the overall €73M committed by Irish Water to water supply projects in County Donegal.
Irish Water and Minister of State for the Diaspora and Overseas Development Aid, Joe McHugh TD, joined leaders from the utility and the council in a sod-turning ceremony at the site.
When completed and tested, the scheme will allow the water supply in the area to be removed from the Environment Protection Agency's Remedial Action List (RAL).
The contract involves the construction of a new water treatment plant immediately adjacent to the current site. The new treatment plant will comprise a robust flocculation, coagulation and filtration process followed by disinfection with a design output of 1,800m3/day. The contract also includes a treated water storage reservoir at the treatment plant site, which will provide a much-improved security of supply for the local residents.
Speaking at the launch, David McLoone, Asset Management Lead at Irish Water, said: "The Gortahork/Falcarragh scheme is supplied from Lough Lagha, an upland lake. However, the existing water treatment plant is not adequate to address the risks to water quality and the scheme is subsequently on the EPA's RAL. These works will ensure the people of Northwest Donegal will benefit from robust water treatment facilities and a safe and secure water supply into the future."
Minister McHugh commented: "We cannot take for granted the importance of a safe and secure supply of water which this investment by Irish Water will provide for the people of North West Donegal.
"As well as being beneficial for current consumers, this new treatment plant will greatly benefit the future economic and population development of the area."
EPS Group will carry out the works on behalf of Irish Water and it is estimated that the works will be completed towards the end of 2017.
This project forms part of Irish Water's investment plan where works have been prioritised to address the most critical issues in line with commitments outlined in Irish Water's business plan. Delivery of the business plan will involve a €5.5bn investment in capital spending on drinking water and wastewater quality and capacity and new infrastructure up to 2021.