Irish Water opens new EUR9M wastewater treatment plant in Belmullet
Irish Water and Mayo County Council have officially opened a new wastewater treatment plant in Belmullet.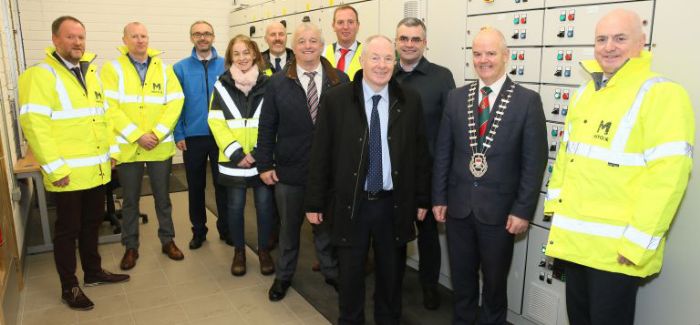 The new plant in County Mayo cost €9 million and will benefit over 1,000 local people and visitors to the town and provide the capacity to treat wastewater for a population of up to 2,500 people.
The new wastewater treatment plant, together with a new treated water outfall into Blacksod Bay, will bring benefits to the town and surrounding areas in terms of health, environmental protection and improved water quality for all.
Belmullet was one of 44 towns around Ireland where wastewater was discharged untreated before the new plant was opened.
Roadbridge and EPS carried out the works on behalf of Irish Water to ensure a robust wastewater treatment system maintaining Belmullet's place as a leading tourism area with capacity for future population and economic growth.
Speaking at the official opening of the plant, Michael Ring TD, Minister for Rural & Community Development, said: "The investment of €9 million by Irish Water in this new treatment plant will ensure Belmullet can retain its position as a tourism hub in addition to providing the capacity for future economic development."
Cllr Blackie Gavin, Cathaoirleach of Mayo County Council, said: "Belmullet is a modern and vibrant town at the heart of the Wild Atlantic Way, attracting many visitors and it deserves top quality infrastructure.
"I am very proud to be here today to open the new plant and I would like to take this opportunity to acknowledge the work of Mayo County Council and Irish Water for bringing this long-awaited project to fruition."
Irish Water's Colm Claffey added: "The new wastewater treatment plant will ensure that wastewater is treated and discharged in compliance with the Urban Wastewater Treatment Regulations 2001 and conditions as set out in the EPA's Wastewater Discharge Licence (WWDL). This project will also improve the water quality of nearby coastal areas, protecting bathing areas and the aquatic environment from pollution."
The €9 million investment in the new wastewater treatment plant for Belmullet has also been welcomed by the local Chamber of Commerce President Damien Lagan, who said: "Erris Chamber welcomes this much needed infrastructure. This project has always been high on the list of priorities for Erris Chamber and I am sure it will have an extremely positive effect on the town both for tourism and local business."
Irish Water is investing a further €19 million in sewerage schemes in Killala, Foxford and Charlestown. The Killala Sewerage Scheme will stop untreated wastewater being discharged directly into Killala Bay and the Foxford and Charlestown sewerage schemes will provide new and upgraded treatment plants for the towns to meet the current populations and will provide for future growth in the areas.
Also in Mayo, water treatment plants in Mulranny, Kiltimagh, Swinford, Foxford, Erris, Wherrew, Newport, Westport and Louisburgh are undergoing upgrades to improve the performance of the plants.