Irish Water extends hosepipe ban in several areas
Irish Water has announced that it will prolong its Water Conservation Orders until 30 September across many areas of the country.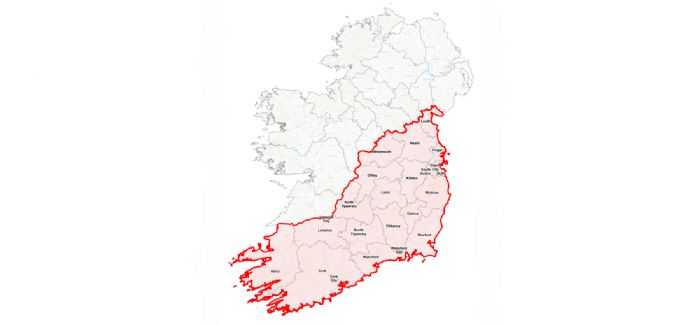 Irish Water said the water supply remains 'very critical' in the South, especially in counties Cork, Limerick and parts of Kerry
With the restrictions having been due to expire on 31 August, the Irish Water Board said it had considered detailed analysis of river flows and lake levels from engineering experts and would maintain the hosepipe bans in the Greater Dublin Area, which includes Dublin, Wicklow and Kildare, as well as in counties Louth, Meath, Offaly, Westmeath, Laois, Cork, Kerry, Limerick, Tipperary, Waterford, Wexford, Carlow and Kilkenny.
However, the Water Conservation Order has been lifted for the North-West region, which includes Clare, Galway, Mayo, Sligo, Leitrim, Roscommon, Donegal, Longford, Cavan and Monaghan.
Irish Water general manager Eamon Gallen said: "The 2018 drought conditions have demonstrated the vulnerability of many of our water supplies, notably in the South, East and Midlands.
"Irish Water engineers and hydrological experts are working with experts from the EPA, OPW, ESB, local authorities and other agencies to monitor river flows and lake levels. We continue to liaise with Inland Fisheries Ireland regarding impacts of abstractions from rivers and lakes and wastewater discharges on fish life.
"This information will be invaluable to the ongoing work of developing the medium- and long-term water supply strategies for the country. In the coming weeks, Irish Water will publish for public consultation, its draft methodology for assessment of sustainable abstractions as a key input to the National Water Resources Plan which will be finalised in the coming months.
"A key element in the strategy is the provision of much greater resilience in our supplies and minimising the impact of severe weather extremes with climate change or sudden failures in sources or infrastructure. In the meantime, Irish Water's immediate focus is on safeguarding water supplies by maximising water conservation and fixing leaks."
He added: "At this stage, the majority of local authorities are working with leakage contractors to deliver substantial savings. Major savings achieved in recent months include in Tralee, Athlone, Cork County, Galway City, Laois and Kilkenny, where schemes under severe pressure due to the drought are now coping satisfactorily due to the water saved.
"Across Dublin, the existing crews performed very well to substantially reverse the leakage impact of Storm Emma and mobilisation for an intensified leakage program has now commenced. Over the coming months, the scale of work on 'Find & Fix' in the network, 'First Fix Free' activity with households, supported by prioritised pipe replacement focused on high burst frequency and impact pipes, will be increasingly evident to the public.
"While the Water Conservation Orders have been lifted for some areas of the country, we are hopeful that everyone will continue to conserve water. This prolonged drought has brought an increased awareness of the value of having an adequate continuous water service for homes and businesses around the country, with evident response in increased water conservation and this must be continued as we all work together to protect and safeguard our water resources for our future needs."