Irish Water commits to new strategic energy initiative
Irish Water has renewed the Public Sector Energy Partnership Programme with the Sustainable Energy Authority of Ireland (SEAI) and the utility has committed to a new strategic initiative to embed energy efficiency in its operations.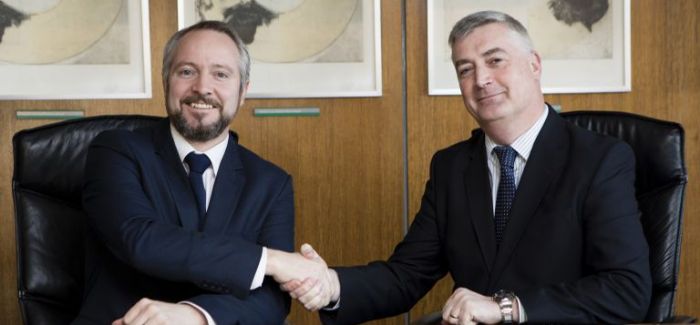 Jim Gannon, chief executive of SEAI, and Eamon Gallen, managing director of Irish Water
Irish Water accounts for 21 per cent of public sector electricity consumption and is by far the largest consumer of electricity in the public sector.
The company developed a Sustainable Energy Strategy in 2016, underpinned by its Energy Policy. Both the policy and the strategy set out Irish Water's commitment and objectives for improving energy efficiency and reducing carbon emissions.
Irish Water has made significant progress in making its plants and business more energy efficient. By 2017, water services had achieved a 22.4 per cent improvement in energy efficiency performance with a corresponding saving of over 51,000 tonnes of carbon. Irish Water is implementing a sustainable energy strategy to increase its energy efficiency to 33 per cent by 2020.
Discussing the company's Public Sector Energy Partnership Programme with SEAI, Irish Water managing director Eamon Gallen said: "We are delighted to be working with SEAI and to get their support to develop a longer-term strategic initiative to support the embedding of energy efficiency within Irish Water. It will build on Irish Water's sustainable energy strategy to become an energy efficient, low carbon, sustainable water utility.
"Irish Water's goal, with support from the SEAI, is to make energy efficiency an integral part of business as usual. We have already started to implement energy efficient design for all projects and Irish Water will leverage SEAI's proven methodologies and expertise in this area.
"Irish Water will continue to embed energy efficiency measures into our current plants and other assets. Energy efficiency will become part of projects at all stages including concept, initial design, through procurement, construction, commissioning and handover, to operation and maintenance over the long term.
"This is a great opportunity for both ourselves and SEAI to transform the industry at a national level and embed energy efficiency within our operations to help achieve the optimal long term sustainable outcome."
Jim Gannon, chief Executive of SEAI, added: "We are delighted to continue our long-standing relationship with Irish Water and to bring our collaboration to a new level.
"SEAI offers support, advice and training to public bodies and our most recent report shows that the public sector has made €1 billion in energy savings and avoided 3.6 million tonnes of CO2 emissions since 2009. We look forward to helping Irish Water reduce and decarbonise their energy consumption as they continue to improve our critical water infrastructure."