Innovative stop log installed at Cambridgeshire pumping station
Water control and fabrication firm ECS Engineering Services has recently completed the installation of one of the country's first adjustable stop logs at Peakirk Pumping Station near Peterborough.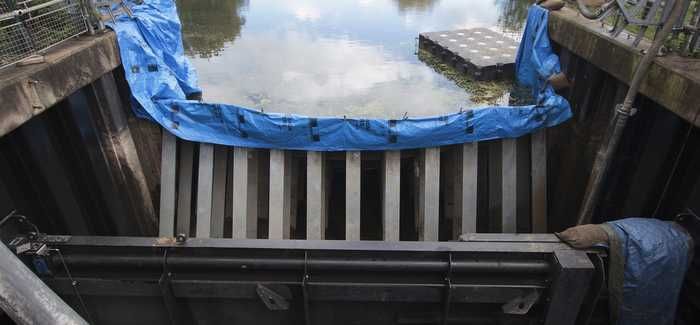 Located on the River Welland, the installation of the stop log was part of an overhaul of the existing pumping station on behalf of the Environment Agency and Anglian Water. The new stop log will aid work in the area by offering a barrier to water flow while maintenance is carried out on a number of water control structures in the area.
The new coated steel stop log, weighing 5,000 kg, is designed to seal off a water channel to allow maintenance work to be carried out. The innovative design allows the overall width to be adjusted between 6,800 mm and 8,000 mm, which ensures an excellent fit in a number of structures across the local sites. By specifying a single stop log for use in multiple applications, the Environment Agency has received a cost-effective and versatile solution.
ECS designed the solution in conjunction with H.C. Waterbeheersing. A coated steel stop log was selected by ECS for the facility due to its durability and resistance to corrosion – providing maximum service life with minimal maintenance.
Further work in the project included the addition of a second fixed coated steel stop log system weighing in at 1,200 kg, which is located upstream in the centre channel sluice of the station. Furthermore, refurbishment of the pointing doors was completed including a new mechanical operating system.
Updated PLC controlled weedscreen cleaners have also been installed at Peakirk, replacing a previous system that had reached the end of the service life. The new cleaners will clear debris more efficiently from the screens, ensuring the risks of blockages and eventual flooding are significantly reduced, improving the flood safety of the surrounding area. As the entire system is automated, the costs and associated risks with regards to manually maintaining and unblocking the screens will be minimised.
New lighting and uprated lifting equipment were also installed within the pump house itself. ECS carried out a full inspection and refurbishment of the diesel and electric pumps located on-site, with the aim to eventually replacing the existing equipment.
Jamie Wesley, Contracts Manager at ECS, comments: "We are continuing our long standing support for the Environment Agency and are now the appointed framework contractors for a number of Water Utilities across the UK. We are naturally delighted to be working alongside these clients to provide solutions in asset management, refurbishment and upgrade."