Innovative lateral repair kit adopted in Christchurch
A specialist repair kit for lateral junctions on pipelines is the only system approved by the post-earthquake rebuilding programme in Christchurch, New Zealand. Source One Environmental has been working on the final version of its new product in close partnership with a select number of contractors since mid-2013, including the Strengthening Christchurch Infrastructure Rebuild Team (SCIRT).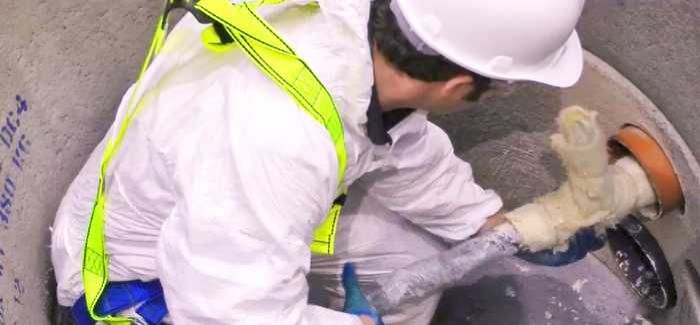 Following preparation, a Pipe Doctor Lateral Repair is inserted into the damaged pipeline
Source One says that the experience gained during this time has been used to make final adjustments to the product ready for its launch this month. Over 100 successful lateral repairs have already been carried out for SCIRT, with over 1,000 more planned.
Defective lateral connections are a huge problem within the UK's sewer network too. It is estimated that there are around 54M connections within the water companies' responsibility since the Transfer of Private Sewers in 2011.
Contractors have reported to Source One Environmental that around 30% fall into the industry's guidelines for immediate repair.
Jon Crean, managing director of Source One Environmental, said, "We recognised a growing need for a robust method of repairing these lateral connections. At the same time, our current Pipe Doctor users were asking if there was a way to use Pipe Doctor to make these repairs.
"We took this idea and worked hard to develop the best repair method for the market and we are convinced the product we're offering will provide a long-term solution for both water companies and contractors. A key focus of our development work was to ensure that the product would be available with minimal investment for contractors."
He continued, "This affordability puts the product within reach of most contractors. We hope the use of this technology will become widespread within the industry, keeping repair costs lower than current options for infrastructure managers."
Defective pipework systems cause problems and lateral connections are highly susceptible to damage. Exfiltration from the network can contaminate groundwater, whilst infiltration can lead to blockages within pipelines from silt and other materials. It can also lead to the unnecessary and costly treatment of groundwater along with the sewage in the system. In turn, this additional water can cause overloading of treatment plants.
No-dig technology offers network managers cost savings and reduced disruption compared with techniques involving excavation. Source One says that in contrast with other no-dig lateral junction repair products, the Pipe Doctor Lateral Repair was developed as a manual system, with no robotic intervention required.
The system comprises the same proven resin used in other products in the Pipe Doctor range, but other components represent advanced development of the patch-repair technique.
"All the developments associated with the Pipe Doctor Lateral Repair are designed to either lower repair costs or ensure that the repair is robust and long-lasting," said Crean.